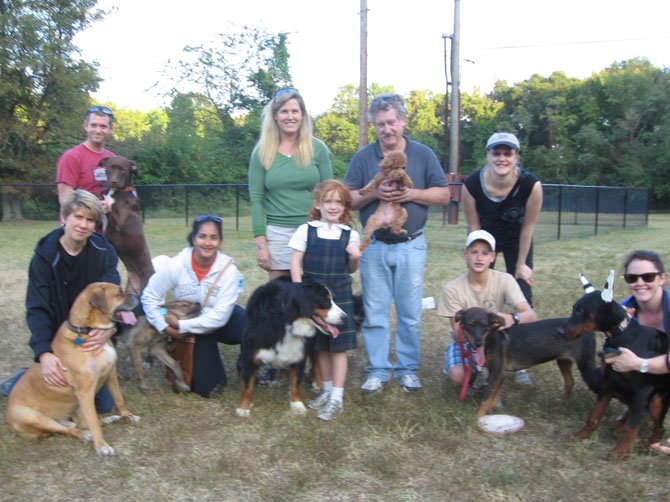 Mount Vernon — The Park Authority approved the Master Plan for Westgrove Park on a permanent basis Sept. 25, ending several years of community debate between environmental advocates who wanted Westgrove Park to remain as a natural resources Park, and dog owners who wanted an Off Leash Dog Park (OLDA) added to the Park.
The final Master Plan incorporated both natural resources protection and enhancement features and the OLDA . A wastewater pump station originally established in 1961 to serve the surrounding neighborhoods continues to operate on the park property.
The final plan also provided for a nature trail to the nearby Belle View Elementary school, an outdoor classroom feature, and designated three resource protection zones covering 82 percent of the 21.3-acre park. The Park Authority has already added a parking feature. The OLDA has been in operation since November 2012 on an interim basis.
A local dog owners group that urged the addition of the OLDA, the Pumphouse Association for Canine Kindness (PACK) entered into an agreement with the Park Authority to serve as the volunteer manager of the OLDA. One of the stipulations of the partner agreement is for PACK to contribute a total of $7,000 to the Park Authority for use in maintenance and enhancement of the OLDA. Steven Nixon, president of PACK, said his group has already raised $3,000 and is making plans to raise the remaining amount. He said they were also in the process of applying for a 501C3 non-profit designation.
"We are thrilled the Park Authority Board gave final approval for the Westgrove off leash dog park. We already think this is the best dog park in the area, and can't wait to make it even better. Even as an interim park it has been wildly successful, way beyond our already high expectations," Nixon said.
Reflecting the views of environmental advocates who opposed the OLDA, Mary Jo Detweiler, who represents the Friends of Westgrove Park, said, "We are disappointed that the Fairfax County Park Authority did not agree with our proposal to develop Westgrove Park as a wildlife corridor and natural resources park. We are pleased, however, that the final plan incorporates some of our suggestions such as access from Belle View Elementary School and nature trails. We hope the FCPA will put a higher priority on its natural resource conservation mission in the future."