Photo Gallery
Taking Back Their Neighborhoods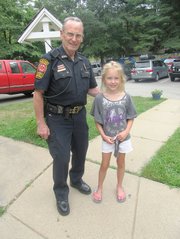 Click Photo for Flash
From block parties to pool parties, picnics and parades, Fairfax County residents gathered with friends, neighbors and local police on Tuesday, Aug. 7, in recognition of the 29th Annual National Night Out campaign.
Throughout Fairfax County, police cars, fire trucks and ambulances were stationed in dozens of neighborhoods to send the message that it takes a community to prevent crimes and misdemeanors through strong community-police partnerships.
"National Night Out events help strengthen neighborhood spirit and partnership between the police and the community," said Officer J.T. Frey, who organized 33 NNO events in the West Springfield Police District. "It's a big event, and one we look forward to every year."
Sponsored by the National Association of Town Watch and Target Corporation, crime prevention officers in Fairfax County have worked to help coordinate local events all year long.
Organizers said neighborhoods that participate in NNO events accomplish several goals. They send a message to criminals letting them know that neighborhoods are organized and fighting back; they heighten crime and drug prevention awareness; and they generate support for local anti-crime programs.
"There's so much neighbors can do," Frey said. "They can organize and join a community watch group, and they can help law enforcement by being the eyes and ears of their community."
"The best defense against crime in a community is a good neighbor," said Captain Joe Hill of the West Springfield Police Department, who spent NNO attending events with Supervisor Pat Herrity (R-Springfield).
"Neighbors who notice and report suspicious activity help us keep criminal activity low," Hill said. "We like to tell people 'if you need something, say something.' It will ultimately create safer neighborhoods for families."
Herrity and Hill passed out crime prevention tips, safety bracelets and Tootsie Roll pops at each event during the night. "This is a great way to meet your neighbors and learn how you can help in the effort to make your communities safer," Herrity said.
The National Night Out campaign started back in 1984 as an effort to heighten awareness and strengthen the bond between local law enforcement and the communities they serve. The annual event involves citizens, law enforcement agencies, civic groups, businesses, neighborhood organizations and local officials from more than 15,000 communities in the United States. Last year, nearly 37 million people participated in National Night Out, according to sponsors.
To learn more about National Night Out events in your neighborhood, contact the crime prevention officer at your local district station.