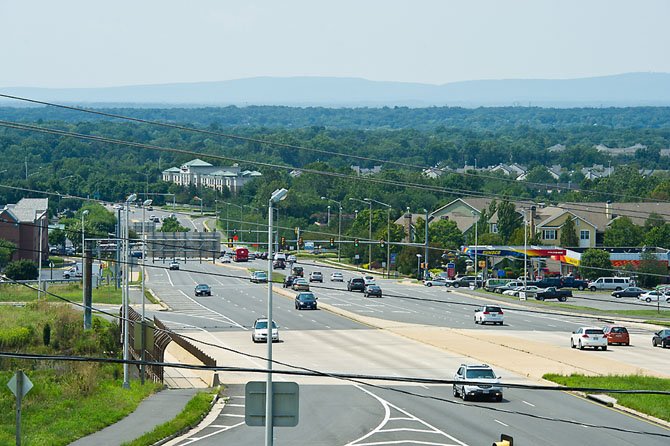 Centreville — Michael Frey has lived in Centreville's London Commons community for more than 20 years and has been the Sully District supervisor since the district was created in 1992. So Centre View asked him to explain what he believes makes Centreville so special.
"An awful lot of community life is built around the schools," he said. "People love them and the PTAs have tremendous support." He also praised the volunteers who put on Centreville Day and other community events at E.C. Lawrence Park and its mill and visitors center.
But what especially left an indelible mark on him, said Frey, was "the way people came together after the May 8, 2006 shooting at the Sully District Police Station. That, to me, says as much about the character of the community as anything."
That day, a heavily armed and mentally deranged teenager opened fire in the station's parking lot, killing two police officers, Det. Vicky Armel and MPO Michael Garbarino. Armel, 40, died that day, and Garbarino, 53, died nine days later; both left spouses and children.
"The day after the shooting, Westfield High students took a huge roll of butcher-block paper and strung it on the fence outside the station," said Frey. "It was signed by hundreds of students saying, 'We love you.'"
Then came the April 16, 2007 tragedy at Virginia Tech in which Westfield graduates Reema Samaha and Erin Peterson lost their lives. "We were all torn up by losing them," said Frey. "I went to the first prayer vigil for them at Centreville Presbyterian Church, and dozens of police officers were there because of the support the Westfield students had given them."
On a lighter note, when asked which view of Centreville he likes best, he said his favorite spot is coming south on Route 29 by the CVS store at Pickwick Road. "On a clear day, you can see the Shenandoah foothills — that's the vista I always love," said Frey. "And that's why there was a fort there during the Civil War, because it was the highest point."
Although Centreville doesn't actually have a town center or main gathering place, he has hopes that the Trinity Centre might someday fill the bill. "More office buildings will eventually come to Trinity Centre to completely ring the lake," he said. "That will open up more public spaces there once the walkway around the lake is completed."
Then, said Frey, that area can serve as much more of a public center and focal point than it is now. "It currently has Movies under the Stars in August," he said. "But one day, it could be a draw for community events such as picnics, fund-raisers and concerts."