As a Fairfax native, I've seen many changes in and around the City of Fairfax. In my role as mayor, I'm delighted to have the opportunity to share my personal thoughts about our community—and what makes this a special place to live, work, play and raise and family.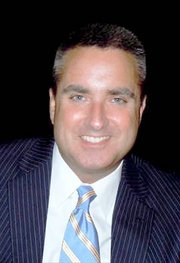 Nestled in the suburban expanse of the Washington, D.C. metro region, the City of Fairfax, Virginia, with its hallmark landscaped and leafy street medians, is an oasis, unique and brimming with vitality that recently has been recognized by Forbes as one of the top three places to live in the nation.
Our residents aren't surprised with the city's many top rankings on "quality-of-life" lists. It simply comes with the territory for this small city of nearly 24,000 known for its superior "small town" community feel situated in a world class metropolitan region.
Whether being recognized for receiving the nationally-prestigious gold medal for our parks and recreation programs, achieving the coveted AAA bond rating for our financial strength or placing 12th among all jurisdictions nationally for the percentage of city occupations in the "creative class," the city has a reputation for achievement, as well as a place of enjoyment and fun for its residents.
Our city is widely known for outstanding cultural amenities. Every year the city sponsors world-class events such as Fall for the Book, Spotlight on the Arts and a fun two-day Chocolate Lovers Festival. This is in addition to our three annual flagship events: the day-long Independence Day Celebration, long recognized as having the best parade and most colorful fireworks in Virginia; our brilliant October Fall Festival where our closed-off downtown streets are filled with hundreds of renown craft merchants and thousands of visitors, and our Holiday Craft Show that fills our high school with amazing handcrafted wares that bring shoppers from surrounding states.
I'm proud that the City of Fairfax has experienced tremendous progress over the past decade. We have invested in many new amenities including a new community center, public library, four public schools and purchased an additional 56 acres of open space. All of these, combined with an unprecedented private sector interest in our historic downtown and the redevelopment of Fairfax Boulevard, make this one of the most exciting times in our city's history.
Perhaps one of the most important areas of all, the city is rightfully proud of its support for the educational opportunities afforded its children. Fairfax High School recently received US News and World Report's Gold Award, its highest recognition, for placing in the top 250 out of more than 22,000 schools nationally. Broad-based community support for schools is evidenced by a recent passage of a General Obligation bond referendum by more than 80 percent of those at the polls. Acclaimed George Mason University sits on the city's southern border and, through a cooperative town-gown relationship, provides world-class thinkers, musical and cultural events, and nationally recognized sports teams with Olympic-caliber athletes.
I'm certain you will discover why our many residents, visitors, and business owners consider our community the "Heart of Northern Virginia."