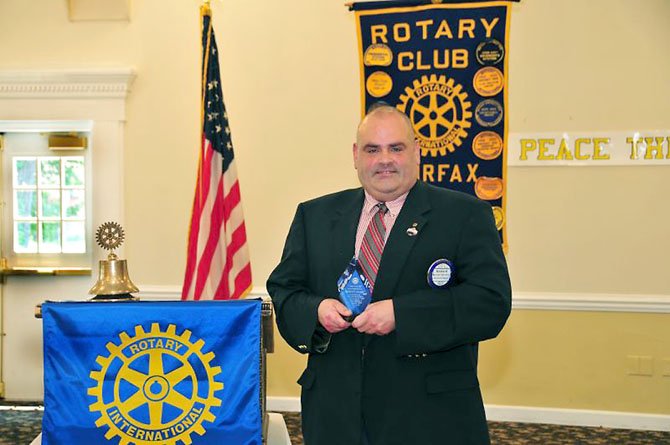 The Rotary Club of Fairfax recently recognized Rotarian Rick Schroeder with the Service Above Self award. The annual award recognizes a member of the club who has demonstrated exemplary humanitarian service, with an emphasis on personal volunteer efforts and active involvement in helping others through Rotary.
The recipient of this year's Service above Self award was chosen by unanimous decision of The Fairfax Rotary Board of Directors. Schroeder demonstrated a hands-on personal philosophy of humanitarian service. "Rick has been instrumental in keeping things running smoothly here for our regular meetings by setting up and stowing away our Rotary banners, projector screen and other materials. He has been a regular at our desk where he greets us, takes our attendance, introduces our visiting Rotarians and guests and keeps our records for us. He has also been an active participant in our many club service activities throughout the year," said Dr. Laura Hills, president. "He presented an inspiring program to our club this year to enlighten us about the Guatemala Literacy Project, with which he has been involved for a number of years, showing tremendous personal dedication. This soft-spoken individual rolls up his sleeves, gives tirelessly of himself, and demonstrates every day the Rotary motto, Service above Self."
The Rotary Club of Fairfax is nonreligious and nonpolitical, and is open to every race, culture and creed. The members represent a cross-section of local business, professional and community leaders. The club is a member of Rotary International, an organization of business and professional persons united worldwide who provide humanitarian service, encourage high ethical standards in all vocations, and help build goodwill and peace in the world. Rotary International's motto is "Service Above Self." The Rotary Club of Fairfax meets on Mondays at 12:15 p.m. at the American Legion Hall on Oak Street in Fairfax City. For more information about the Rotary Club of Fairfax, visit the club's website at www.fairfaxrotary.org. Or email Rotary Club of Fairfax's Executive Director Irby N. Hollans, Jr., at ihollans@earthlink.net.