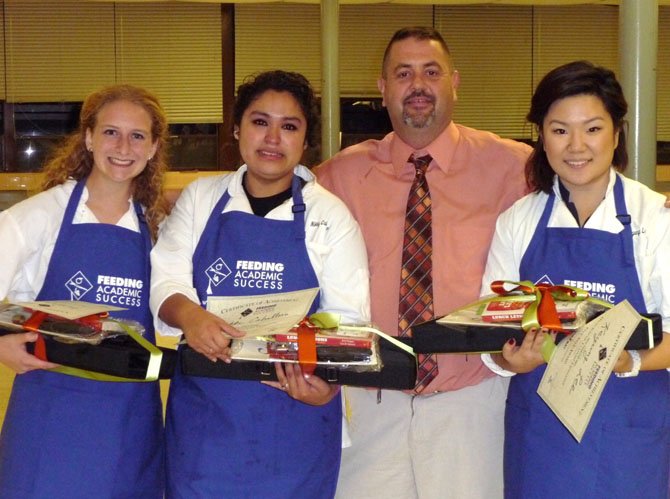 Five stars are given to America's top restaurants, and at a recent culinary competition, a student team from The Chantilly Academy captured the top prize, the Five Star Award.
Victorious were seniors and Culinary Arts II students Kyung Lee, Valerie Claunch and Nikki Caballero—all of whom plan to someday become professional chefs. Lee's base school is Fairfax High; the other two attend Chantilly.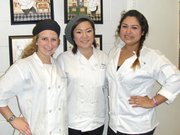 Fairfax County's chapter of the national organization, Real Food for Kids, sponsored a Feeding Academic Success event, Oct. 23, on the eve of National Food Day, at Marshall High. And Chantilly's team beat out teams from three other schools.
"Real Food for Kids is trying to raise awareness and make changes so we're serving healthier, less-processed, fresher foods in our schools," explained Chantilly's Chef/Instructor Clay Doubleday. "So it held a meeting/rally to promote this cause."
In conjunction, it invited FCPS culinary students to create a themed salad bar that could potentially be used in this project. In addition, the students had to meet the USDA's cost and nutritional guidelines for school lunches. Entries also had to offer a variety of vegetables and appeal to fellow students.
THE EVENT also included a panel of food and health specialists who discussed ways of transforming school food, the rising rate of childhood obesity and the use of organic food in school meals. For their first-place finish, Chantilly's team members each won a knife kit; a free, three-credit class worth $1,600 at Stratford University; $200 in cash and a cookbook signed by Chef Ann Cooper.
"I'm very proud of and happy for them," said Doubleday. "We found out about this contest when school started, so they just had six weeks to prepare for it. They worked incredibly well together and had great rapport as a team. They were also professional with each other and mature about their decision-making process; they bounced ideas off each other. Everybody had a say and nothing was approved until they all agreed on it—and the food was fabulous."
"We had to set up a salad bar for 40 people," said Caballero. "And we decided to go with a Tex-Mex theme so kids would enjoy it, too."
They chose ingredients such as cilantro, lime, corn and beans. "We wanted to offer things different from regular, school salads," said Lee. "We thought the colors would attract young students and the sweetness plus some heat would attract their palates."
Caballero said they also had fun creating their own salad dressings—Creamy Chipotle Adobo and Cilantro Lime Vinaigrette. "We didn't want to use ranch or thousand island," said Lee. "So we incorporated mayonnaise, honey, lime juice, adobo sauce and garlic for the Creamy CCChipotle Adobo." The Cilantro Lime Vinaigrette was comprised of cilantro, lime juice, garlic, red-wine vinegar, red onions, oil, salt, pepper and honey.
The actual salad-bar ingredients included corn, beans, pineapple salsa, chicken, red bell peppers, sliced onions, romaine lettuce and baked tortilla chips. But the Chantilly team was well-prepared and up to the task.
"We were used to doing things like this in class," said Lee. "The biggest challenge was the balance of flavors." Gesturing toward her teammates, she said, "I like heat, but these girls can't take it as much."
The Chantilly Academy team vied for the prize against Falls Church High, Marshall Academy and Mount Vernon High, but was confident from the start. Caballero said, "We looked at our competition and thought, 'Nah, we got this.'"
For example, said Claunch, "We made everything from scratch, and some of our competitors used bottled dressing."
Claunch said Chantilly's entry wasn't too complicated and would appeal to the whole student body. "You could mix and match," she said. All three girls were also impressed that some of the judges were graduates of the Culinary Institute of America (CIA) and gave them tips on even improving what they'd done.
LEE SAID the event showed how "all of us who competed had different perspectives on what students would like to eat. And that helps both us and Fairfax County expand our knowledge." As a result, said Claunch, "Maybe FCPS might move toward having fresher ingredients in the cafeterias."
The students noted, as well, how what they'd learned from Doubleday helped them in the competition. "While we practiced making our salads, chef taste-tested them and gave us advice," said Claunch. "And the techniques we used to make dressings—and how to season things correctly and make everything from scratch—we learned from him."
Lee said Doubleday "makes sure you won't be afraid of competition, but will focus, be yourself and not go crazy. He also taught us the techniques and flavorings to attract our peers to our food."
As for the future, all three girls want to attend the Culinary Institute of America in Hyde Park, N.Y. Lee will study baking and pastry, culinary arts and food-and-beverage service. Then, she said, "Since my dad's a contractor, I'm hoping he'll work with me and build me a restaurant."