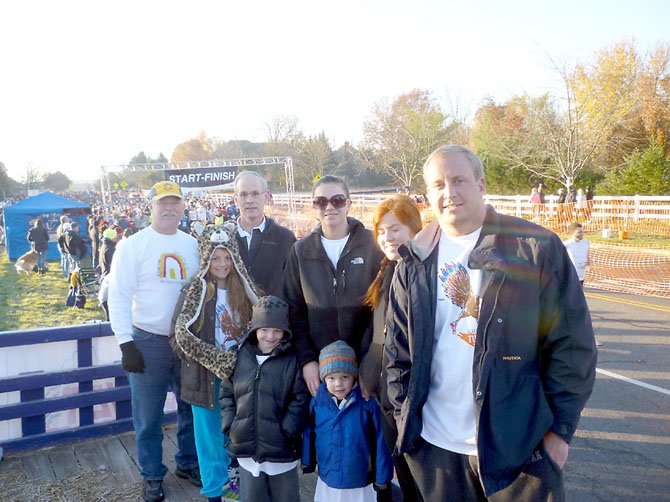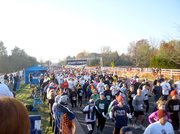 Centreville — Just like the Thanksgiving turkey and pumpkin pie, this year's Virginia Run Turkey Trot is history. But the good it'll do for others will last a long time into the future.
All the funds raised from this annual event go to Inova Health System's nonprofit program for cancer patients and their families. And, said event Co-Chairman Laurie Horstmann, "By our estimates, we're close to being able to donate $100,000 to Life with Cancer from the proceeds."
This year's Turkey Trot was run in honor of Virginia Run resident Bonnie Huneke, who died of breast cancer Oct. 27, 2011 at age 50. The 5K winner was Taylor Torino, 20, of Centreville with a time of 15:46.
More than 5,200 people participated in the walk and run, and Horstmann praised the "phenomenal Virginia Run Turkey Trot Race committee" members for all their hard work in making this year's event such a triumph.
"They are a wonderful group of very capable and dedicated volunteers," she said. "Many have been on the committee for 15 years or more. But we also have new members who've been instrumental in the race's success: Dean Jones, Mirchelle Enright, Mary Mitchell, Tom Redman, Steve Logon, Janet Day, Donna Latham, Bonnie Major, Steve Boyles, Jim Horstmann, Helaine Newman, Janet Logan, Joann Sevel, Geri Lightburn, Jackie Horstmann, Betsy Higgins, Greg Richter, John Lalley, Erik Kean from DC Timing Company and Catherine Intartaglia from Life with Cancer. They are the heart and the soul of the event."