Each year, the Virginia Run Turkey Trot is run in honor of a community resident who's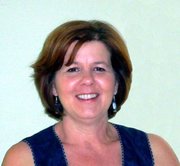 died of cancer, and this year's Thanksgiving Day event is in memory of Bonnie Huneke. She died Oct. 27, 2011 of breast cancer at age 50.
Sixteen-year residents of Centreville's Virginia Run community, she and her husband Stephen, a government contractor and retired Army major, were married 21 years; their children are Elizabeth, 31, Craig, 26 and Mary, 19. Bonnie's first husband, Army CWO3 Billy Bolin, preceded her in death.
"She was one of those super-friendly people who never met someone she didn't like," said Stephen Huneke. "Every day, she'd be out walking our golden retriever and met a lot of neighbors that way."
Bonnie also loved planting flowers and gardening; and as the children grew, she and Stephen enjoyed attending their athletic events in SYA and in high school. She also volunteered at Virginia Run Elementary, Stone Middle and Westfield High and worked at Westfield's blood drives, too.
An active person, she used to be an avid runner until a bone tumor on her right knee, 18 years ago, forced her to have a prosthetic knee. Because of that, several times over the last 15 years, doctors had to remove scar tissue on her knee.
Bonnie did aqua-jogging at the Cub Run Rec Center, a few times a week. She became such a regular there that she and the staff members knew each other well. She also liked getting together with friends. But a dramatic change in her life was just on the horizon.
"Around October 2010, she started having pain deep in her thigh, and we assumed it was the prosthetic device loosening up," said Huneke. He said she'd also had pain in her breast, but "doctors here didn't catch [her cancer returning] and didn't know what to do about her problem."
When her bone tumor was discovered years ago, the military sent Bonnie to an orthopedic oncologist in San Antonio, Texas. So in April 2011, she returned to him. "He did a cancer scan and found multiple tumors throughout her body," said Huneke. "They were on her lung and liver and one was in her brain."
When she came home to Virginia and saw an oncologist at Bethesda National Medical Center, he also found a tumor in her breast. According to her husband, it was an aggressive form of breast cancer.
"The doctor said, 'This isn't curable,' and said she had maybe a year to live — which was pretty hard to digest," said Huneke. Afterward, Bonnie had radiation to slow the growth of the tumor in her brain, but there wasn't much else that could be done.
"You just hope for the best and try to live as normal a life as possible," said Huneke. "Our youngest daughter was finishing up her senior year at Westfield; so for her last six months, Bonnie focused on getting her ready for college at Virginia Tech."
Their son Craig was in the Army and, about two months after his mother's diagnosis, he was deployed to Iraq. But, said Huneke, "He got to come back for the last month of her life and was here with her when she died."
Daughter Elizabeth lives nearby, so she was with Bonnie every day, along with her three young children, two boys and a girl, which proud grandmother Bonnie loved.
She died, the end of October 2011. Said her husband: "She once said, 'I never really wanted to live to be 90, but I never thought I'd die at 50.'"
A year's gone by since then and, said Huneke, "Last year was a little tougher. We spent Christmas with Bonnie's twin sister Connie in San Antonio and got to see our son stationed then at Fort Hood, Texas. He's now a DOD contractor in Northern Virginia."
As for Turkey Trot, Huneke said he's "very honored" that his wife is being remembered that way — especially since the proceeds go to Inova's Life with Cancer program that helps families going through the disease.
"The irony is that Bonnie was a fairly avid runner before the problems with her knee," he said. "Connie isn't able to be here for the Turkey Trot, but she and her son will run a 5K in San Antonio at the same time the Turkey Trot is run here. My son is planning on running the 5K [here] and I'm going to do the [2K] walk."
Meanwhile, Huneke and his family are getting on with their lives as best they can. "As time goes on, maybe the technology for diagnosing breast cancer will improve and something like this won't happen to someone else," he said. "But time doesn't heal — you just call it the new normal."