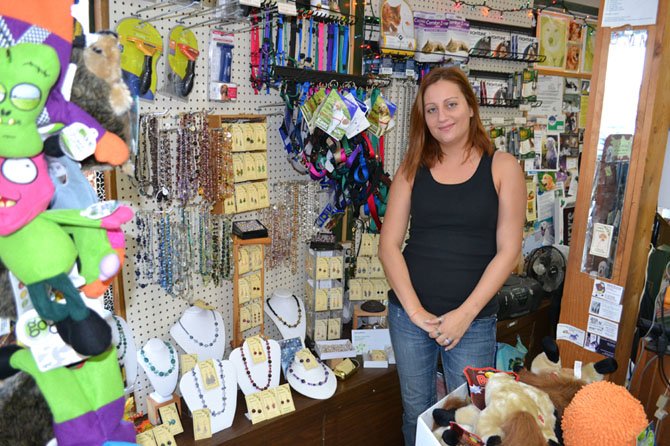 For those who try to avoid crowded malls this time of year, McLean offers a host of local shopping options. There are numerous gift and specialty shops offering a more peaceful venue, quality customer service and the good feeling that comes with supporting the local economy.
Listed below is a mere sampling of local stores and some of the wares they offer.
Artisans—The Artisans, located in the Langley Shopping Center, has been a local fixture in McLean for 20 years, according to store employee Debbie Waugh. It offers if not local, then at least made-in-the-USA and fair trade gift items. The selection ranges from jewelry to kitchen and glassware, home décor, and a small selection of specialty clothing.
"The shop is like Etsy, if Etsy were a place," said employee Allie Lundquist. Etsy is exclusively an online shopping experience featuring handmade items made by local artists and fair trade dealers.
And if a shopper is looking for a good deal, and assistance in selecting a gift, Artisans may be a good choice. "We have things in all price ranges," said Waugh, "and we're happy to share our opinions."
Betsy and Cornelia's Consignments—Betsy and Cornelia's, located on Chain Bridge Road, may be a place that local residents often drive by, but don't get around to visiting. Its façade is distinguished by a striped awning and flanked by two large lion-headed chimeras. It is not just a consignment shop. It is a near-treasure trove.
"It's like coming to 10 stores in one," said store Manager Teresa Woodward. "We have shoes, we have handbags, we have vintage, we have fabulous dresses, we have evening wear, minks and furs, designers galore and things for the home: accessories, furniture, antiques."
Photo Gallery
McLean Gift Guide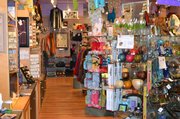 Click Photo for Flash
Woodward spoke of the high quality of items for sale, noting that individuals who consign at the store bring in the "best of the best," and have great taste. Most consigners are from McLean, and increasingly from Georgetown, Great Falls, Arlington, Potomac and Bethesda.
Woodward also noted that the store is often a mother-daughter and girlfriend destination. Mothers and daughters meet at the store after school or on weekends; and girlfriends often stop into the store after meeting for lunch. A shopper could spend a lot of time, and not much money. The staff is very friendly and helpful.
Child's Play Toys—Any local resident looking for a children's gift on short notice has surely stopped into Child's Play Toys. The store, which is located in the Langley Shopping Center, has a large variety of toys and gifts for children, many of which are not carried in the larger chain stores. The toys, games, and books are high quality and unique. Though Child's Play is consistently crowded this time of year, the staff is exceedingly helpful and a customer is able to find a gift, check out, and even have the gift wrapped fairly quickly.

Mesmeralda's—Mesmeralda's, located in the Salona Village Shopping Center in McLean, was described by store Manager Judy Hope as a general gift store. It carries a large variety of gift items and features a knowledgeable staff. It is a good destination for collectors, and features a large selection of Byer's Choice dolls and German nutcrackers.
The store also carries a small but unique collection of books, some by a local historian. Hope described one of the books in the store's collection as being "full of information about local McLean families."
The store also has a large selection of Crane stationery, Spode, Christmas snow globes and ornaments, and the "best candle stock in the area."
Name Droppers of McLean—Name Droppers of McLean, also located in the Salona Village Shopping Center, provides the unique service of personalizing ornaments while you wait. "We've got a little bit of everything," said owner Marie Myers. "It's one-stop shopping."
Myers noted that the store carries European jewelry from Florence and Paris, along with what she calls "fun, inexpensive" jewelry. They also have a huge collection of clip earrings, possibly one of the largest in the area.
Preppy Pink Pony—The Preppy Pink Pony, located on Chain Bridge Road, is known for its monogramming service. During the holiday season, the store provides onsite monogramming, which can usually provide a finished product within 24 hours. "We brand ourselves as sort of the last minute, gift-to-go shop," said employee Diane Eberle.
The store also has a large selection of hostess gifts, Scout bags, and Jaye's ware. It recently expanded its stationery line, and takes bridal and Christmas card orders.
Your Dog's Best Friend—Regular visitors to Your Dog's Best Friend know that they can count on a special greeting each time they enter the store. Bear, a friendly, and aging, chocolate lab does not always get off of his pillow to welcome a customer, but he does look up and gives visitors a tip-of-the-tail wag.
The store, located in the Salona Village Shopping Center, features all-natural, healthy dog food and supplies. There are lots of toys and treats that are made in the USA, which is often important to health-conscious pet owners. The store also carries handmade jewelry and ornaments, made by store Manager Jennifer Bateman.