Mount Vernon — In the Alexandria area, there are a dozen antique, consignment and thrift stores that are full of unusual items that make great holiday gifts. There are the classics, like crystal, silver and china. Gifts for collectors include action figures, trading cards, old cars and trains. They are also a go-to place for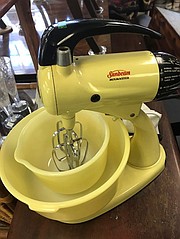 holiday decorations for the house or office.
Here's a look at a few of these stores.
Formerly known as Thieves Market, Mount Vernon Antique Center, 8101 Richmond Hwy., has something for everybody. There are plenty of antiques, but there are also vintage items, gift items, clothing, jewelry and more. Located on Route 1, across from Costco, there are currently more than 30 vendors in the store. Merchandise changes on a daily basis, and most vendors will keep a "wish list" ifa customer is looking for something in particular.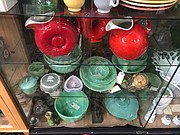 Inside and upstairs at the Mt Vernon Antique Center is a computer store – The Eldest Geek. At the other end of the store is Yellow Gold. Not only do they sell gold jewelry, but they also design and repair gold and silver fashion jewelry and watches. Libby Bryant, who used to work at Hodges Gallery in Belle View Shopping Center, now has a space upstairs which is full of eclectic treasures. She does framing and restoration of all kinds of artwork.
Lisa Balough, volunteer at Select Seconds Thrift Store, 5834-D North Kings Hwy., said, "Select Seconds is a frequent stop for savvy shoppers. The jewelry case has a full selection that varies daily. The housewares selection runs the gamut from high end collectible to everyday practical. Clothing choices for women, children, and men from dressy evening wear to the coolest jeans. Appliances, books, linens, office items, great shoes and purses, and wonderful toys for children and adults."
AnnElise Waller, volunteer at The Twig Thrift Store, 106 N. Columbus St., said that they have a nice collection of pink-tag labels: "These are clothing items that are especially nice and good for the holidays."
Another volunteer, Susan Labovich, said, "We have so many beautiful things but we also have customers who come in looking for ugly Christmas sweaters. "Some times of year, we get tons of donations. It's hard to turn them away. The other thing we do that's really nice is that churches give their clients vouchers to shop at Twig. Another nice things is that if we get blankets and things we can't sell we bring them to the animal shelter."
Over at Look Again Resale Shop, 900 King St., manager Jeff Elmendorf, said, "We have the best selection of Christmas presents at good prices. Our store is actually two stores in one. We have quality donations and nice antiques, but items range from $1 items to higher end items."
As a new manager, Elmendorf said, "If people haven't been here lately, we have a lot less clutter lot and more good stuff. We have transformed the store. "Many people don't realize that we are a charity, but our proceeds help the prevention of blindness."
Evolution Home, 6239 Shields Ave., is the next step in the evolution of a 15-year old business and combines a large consignment area with various dealer booths – full of fun and unusual items. Owner Susan Driscoll, said, "Our theory is that our homes are constantly evolving. Small apartments, first time homes, forever homes, homes with kids, homes with dogs, empty nests and retirement dream homes — as we move through each stage of life our styles, tastes and budgets change. Evolution Home has one goal, to be with you through each change. We are committed to providing quality antique, vintage, modern and consignment home furnishings and accessories."
The Back Porch Thrift Store, 8794 Sacramento Drive, has nominally priced necessities, affordable apparel, very reasonable vintage, retro and contemporary furniture,
books, collectibles and home decor for every taste. Their inventory changes daily and customers will find antique furniture, luxury crystal ware, popular DVDs, rare books, vintage jewelry, designer clothing, stylish home decor, electronic goods, heritage china, collectibles and more.
There are two Goodwill Stores on Route 1, 6220 Richmond Hwy. and 8228 Richmond Hwy. as well as a new 2nd Avenue Value Store, 8750 Richmond Hwy.