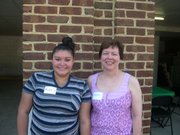 This article was submitted by Leigh Hoyer and Luisa Reyes from Wright To Read, an educational program that promotes literacy through the tutoring and mentoring of elementary school students and through outreach to the Alexandria community.
Mentee Roxana Lara spoke about the value of having a mentor:
"Sometimes you can't find the right words to say, or maybe you just can't find the right way to say it. But I want to give thanks to someone who helped me so much in life. I am very grateful for Ms. Kathy's tutoring and mentoring. Now I am reading much better. I see things much differently than before, thanks to her."
Kathy Stoner provided the mentor's perspective:
"A few years ago, after yet another evening of watching mindless sitcoms and playing on the computer, I lay on the sofa, thinking that I could really be making better use of my time. I found Wright to Read, which sponsored reading tutors for Alexandria kids in grades 1-5. They assigned eight-year-old Roxana as my student. I went to the family's home to meet her and talk to her parents about doing weekly tutoring sessions at the local library. Her brother Carlos, who is nine years old, looked at me shyly and asked, 'Can I come, too?'
"And so we became a threesome, invading Duncan Library one evening a week. After Roxana and I had finished our reading lesson, the three of us played word games — at first, games for children, and when they got older, Boggle and Scrabble. Once a month we'd go on what the kids called 'field trips' — to museums, the Baltimore Science Center, bike rides, and ice skating. Roxana is 15 now and doesn't need help with her reading anymore. Together, we belong to a teen girls' book group sponsored by Wright to Read. Carlos is 16 and this summer I started teaching him to drive.
When I tell people that I'm a volunteer tutor, they comment on how great it is for the kids. But they have no idea how wonderful it has been for me as well. I look at Roxana and Carlos, fine young adults now, and feel proud to have played some small part in their growing up."
To contact Wright to Read, call 703-299-9854 or visit
WrightToRead.org.
To contact Alexandria Mentoring Partnership, 703-746-4475