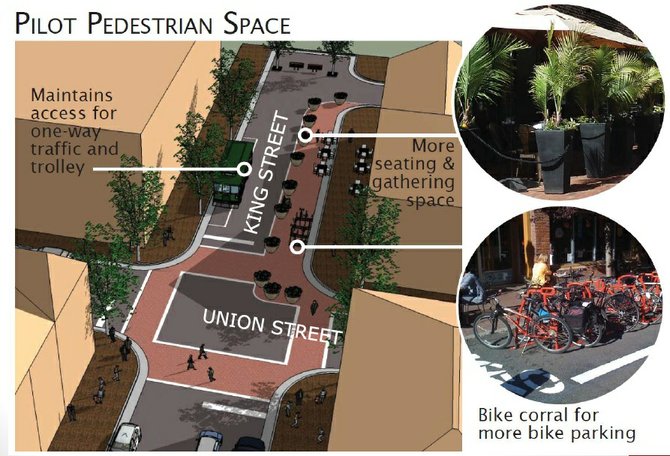 The first signs of change from the waterfront plan are about to sweep through Old Town, adding features city officials believe will make the thoroughfare more friendly to pedestrians who will walk along the redeveloped properties. Parking restrictions will create more room for people to maneuver without dodging parked cars. Turning restrictions will prevent drivers from making left turns at Union and King streets. And a long-awaiting pilot project will close the unit block of King Street to traffic, creating a pedestrian plaza.
"This will be wildly popular," said Vice Mayor Kerry Donley, referring to the pedestrian plaza. "Once you make this change, it will no longer be a pilot. You'll never be able to go back."
Perhaps the most drastic change will come a few years from now, when city leaders will transform Union Street into a "shared street." Council members approved the concept last weekend, although a formal proposal will need to be presented to the Planning Commission and City Council before it can move forward. The philosophy has been used in Europe for decades, originally designed as a way to create a greater sense of uncertainty for drivers and force them to reduce their speeds. Here in Alexandria, the redesigned portion of Union would have both the street and the sidewalk flush from building to building — doing away with curbs altogether from Cameron to Prince streets.
"This has been controversial and unpopular in the Netherlands," said Poul Hertel, co-chairman of the Federation of Civic Associations. "It's proven to be totally unsafe for pedestrians."
CREATING A PEDESTRIAN plaza on the unit block of King Street has been a topic of conversation for years, and several council members said they were eager for the pilot project to begin. A similar pilot project was launched back in 2006 that transformed the 100 block of King Street into a pedestrian plaza. For 12 summer weekends, automobile were excluded in favor of flowers, benches and expanded outdoor dining. But retailers reported a drop in sales, and several complained that the pilot project lacked adequate planning and decorative landscaping.
"It will come back," Mayor Bill Euille predicted at the time. "When it comes back, it will come back with a lot of fanfare, and it will be done the right way."
Bicyclists will now have a designated space to make left turns onto Pendleton Street from the Mount Vernon Trail. A designated walking corridor will be created on the east side of Union Street between Oronoco and Pendleton streets. New pavement markings will be added at the intersection of Union and Queen streets so bicyclists and motorists understand how to transition between bike lanes and shared lanes. Raised crosswalks will be added at the Wilkes Street tunnel and at the intersection of Union and Gibbon streets.
"We live in a changing world," said Jody Manor, chairman of the Alexandria Convention and Visitors Association. "Cars are becoming less dominant."
SEVERAL SPEAKERS criticized the proposals during the public hearing, describing the recommendations as diverting attention away from problems raised by the Waterfront Work Group last year. When the group finished its investigation of the waterfront plan, several members said the traffic study was inadequate because it only looked at Washington Street, which is six blocks to the west. Because all of the redevelopment would be on Union Street, they called for a traffic study that would determine how much additional strain could be added without creating a burden.
"The Union Street Corridor Study is so typical of what passes for planning in Alexandria today," said work group member Bert Ely. "It proposes changes to Union Street that do not address the issues that triggered the study, and the recommendations are not integrated with recently proposed flood mitigation initiatives."