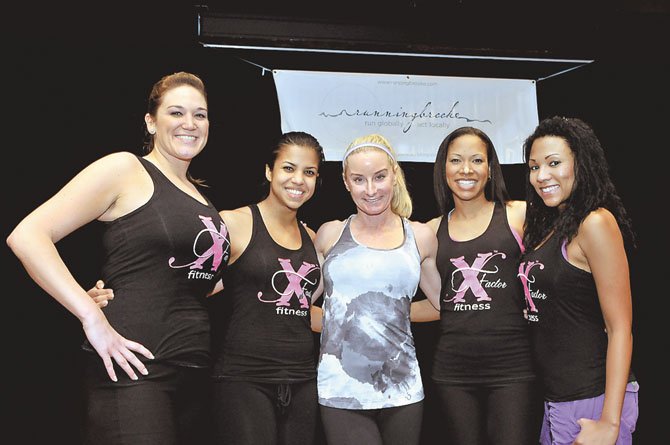 For Dave Lucchesi, it didn't matter that he was the only male on a dance floor that was otherwise filled with women. Instead, he saw it as a chance to try something new and raise money for a good cause at the same time.
"The closest I ever came to Zumba was watching a video on YouTube before I came here," Lucchesi said during a break of Zumba Explosion, a fundraiser for ACT's Running Brooke Fund held Jan 29. at the Carlyle Club. "This has been a thoroughly enjoyable experience."
Lucchesi joined his wife Elizabeth, a co-sponsor of the event, and more than 90 other participants for an afternoon of non-stop Zumba provided by instructors from X-Factor Fitness.
"Arlene [Hewitt] was the one who came up with the idea," said Brooke Curran, founder of the fund that benefits five local charities. "She knew I wanted to do something here at the club. We raised $5,740 and had a lot of fun."
Photo Gallery
Zumba Explosion
Click Photo for Flash
Curran, who has committed to running a marathon a month to raise money for the fund, has donated more than $111,000 to Alexandria-based charities since 2009.
Curran will participate in the Austin marathon later this month before heading south — way south — for her March run.
"I leave for Antarctica on March 1 and we are scheduled to run on the 9th if the weather holds out," Curran said. "I am very excited. This will be the final 'continent' to check off my list."
Local nonprofits benefitting from Zumba Explosion and the Running Brooke Fund include ACTion Alexandria, Child & Family Network Centers, Community Lodgings, Girls on the Run NOVA and The Reading Connection.
For more information or to donate to the Running Brooke Fund, visit www.runningbrooke.com.