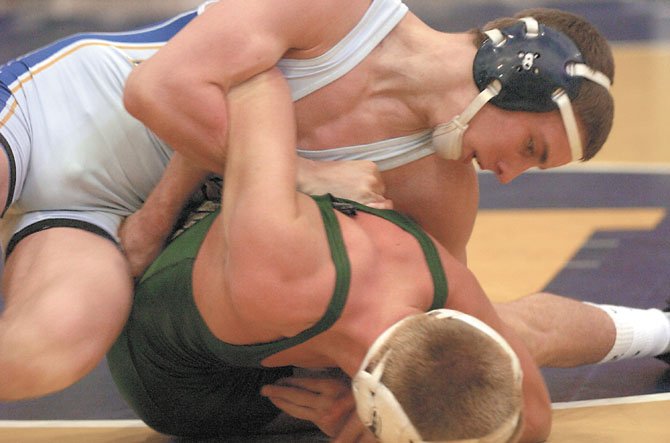 The Langley High wrestling team is set to begin the postseason portion of its schedule this Friday and Saturday, Feb. 3-4, when it hosts the Liberty District Championships meet. The two-day event will begin Friday evening at 5. On Saturday, action will start up again at noon time and run throughout the day.
Langley, under head coach Jeff Mye, captured the regular season district title with a perfect 7-0 record in dual meets. The Saxons' district dual meet wins were as follows: 54-21 over visiting Madison on Jan. 9; 39-30 at Marshall on Jan. 11; 58-17 over Stone Bridge on Jan. 11; 51-21 over visiting Jefferson on Jan. 14; 63-18 over visiting Fairfax on Jan. 14; 70-6 over visiting South Lakes on Jan. 14; and 57-21 at McLean on Jan. 25.
Non-district dual wins over fellow Northern Region opponents came over Lake Braddock (Patriot District), 42-36, on Dec. 22; and guest Washington-Lee (National District), 39-36, on Jan. 14.
Langley's line-up is filled with wrestlers who put together terrific regular seasons. The following is a look at the Saxons' line-up set to compete at districts:
Freshman Anthony Panetta, 2-1 record at 106 weight class; senior Christian Campbell, 17-18 overall record, 6-1 district record at 113 weight class; sophomore Jacob Adams, 25-4, 3-0 district at 120; senior Leland Jenkins, 31-9, 7-0 at 126; senior Austin Miller, 19-6, 6-0 at 132; senior Jay Ives, 24-6, 6-0 at 138; senior Matthew Sahm, 33-12, 7-0 at 145; senior Mark Wilson, 18-15, 4-3 at 152; sophomore Alex Pratte, 23-16, 7-0 at 160; sophomore Gabriel O'Neal, 10-5, 6-1 at 170; junior Chris Hyatt, 7-13, 3-4 at 182; senior AJ Holtberg, 2-6, 2-3 at 195; junior Tate Dulany, 33-5, 7-0 at 220; senior Austin Anthony, 7-17, 3-4 at heavyweight.
Following this weekend's district championships will be the Northern Region Championships, set to take place Friday and Saturday, Feb. 10-11 at Hayfield High School in Alexandria. The Virginia State AAA Championships are scheduled for Feb. 17-18 at Robinson Secondary.
Last year, Langley finished ninth overall at the 30-team region championships meet held at Fairfax High. Robinson Secondary captured the region title for the first time since 1991. Langley's Ives earned a fourth place region finish at the 135 weight class.