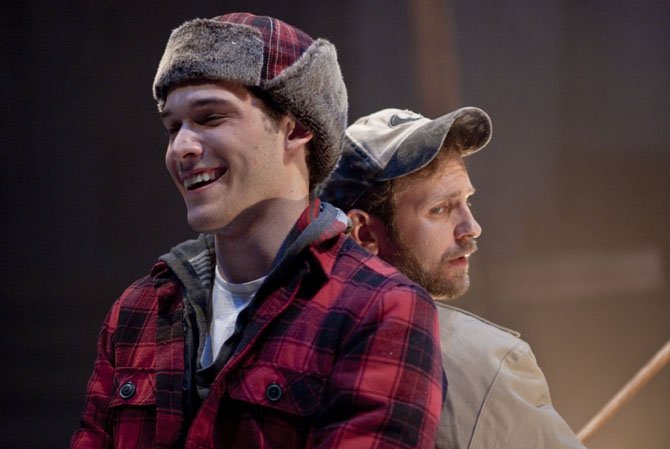 Smitten you can become with the delightful, upside-down quirkiness at the heart of "Almost, Maine" the current 1st Stage production. In overlapping vignettes that flow gently into each other, the complexities of love pile up as physical manifestations; sometimes whimsical, sometimes heart-breaking tales of love found and sometimes misplaced.
Under director Michael Chamberlin's creative guidance, this is an evening full of charm and appealing eccentricities. Chamberlin gives three dimensions to what "Almost, Maine" playwright John Cariani called "a play about people who are normally very grounded, but who have become very excited by love...and other extraordinary occurrences." There are also plenty of knotty and thorny relationships to give some savoring taste to the show.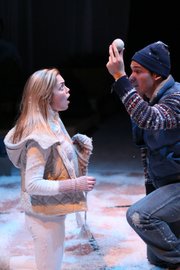 Chamberlin envelopes the audience into the proceedings. With a charming set design by Steven Royal and lighting by Brian S. Allard, the audience enters the set, yes enters the set, as participants living as the towns-folk of "Almost, Maine." It is an intimate, upside-down, snow-globe world of hushed blue-white-grey winter tones, falling snow, northern lights and rich imagination. Derek Knoderer's piano-laden sound design; the costume design by LeVonne Lindsay all of plaids, cords, flannels, and down jackets, and appropriate boots exude the cold in a very small space. Props by Debra Crerie and Kay Rzasa are an unpredictable lark.
Four actors - Megan Dominy, Elliott Kashner, Jessica Shearer and Jonathan Lee Taylor - play 19 of "Almost, Maine" residents in nine vignettes over two acts. Dominy has a fine range for comic physicality, Shearer a lovely sense of how to use her beauty in scenes. Kashner gets quickly to the essence of his characters while Taylor possesses a gutsy flair for the unexpected.
Where and When
1st Stage Theater, 1524 Spring Hill Road, Tysons Corner. Performances through Feb. 26. Fridays 8 p.m., Saturdays 2&8 p.m., Sunday's 2&7 p.m. Tickets: $15-$25. Call 703-854-1856 or log on: www.boxoffice@1st....
The overall effect is that off-center ways of the world can exhilarate or humiliate. There are spur of the moment kisses, humorous hugs within unexpected relationships, fixings of broken hearts, the return of love in enormous red garbage bags, too late apologizes and any number of life-lessons in how love can appear in the most unlikely of situations. It is not hair-splitting a reaction; the tales don't all hit their mark. Some are too long, others don't penetrate enough.