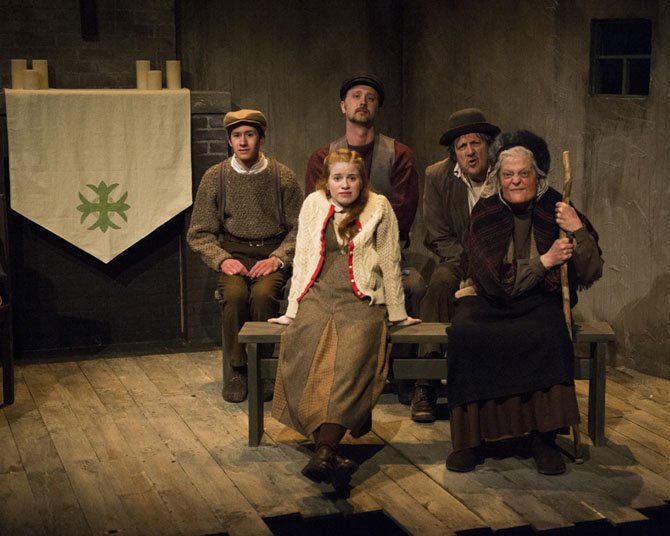 Tysons' 1st Stage is giving audiences a terrific evening's entertainment with a talented, engaging cast. The 1st Stage "The Cripple of Inishmaan" is a gem of a production. It is full of eccentric, ultimately poignant characters with sharp satire and charm; as well as their insensitive attitudes, using "cripple" to describe a person with a disability.
The play, written by Tony Award recipient Martin McDonagh, takes place in an unconventional setting; an isolated island off the west coast of Ireland in 1934.
Directed with allure by Steven Carpenter, the verbally energetic show is full of salty humor by quirky people with a host of troubles in a time without modern conveniences such television or telephones.
The islanders become overjoyed to learn a Hollywood film is being made about their hard life. A loner, the orphan Billy Claven, known as "Cripple" Billy, is eager to escape the ridicule he endures and the island's gossip-laden boredom. He is pegged by others as the least likely to succeed. To everyone's surprise, he successfully auditions and goes to America for a period of time. And then returns to make his mark.
Billy is played by the super Josh Adams. He is the sly underdog and "scapegoat" we root for. Ultimately, he bamboozles the others in his quest for a better life. Adams' major foil is the delightful Mark Lee Adams, as Johnny Pateen Mike, the town gossip and storyteller. He has an unexpected heart of gold.
Megan Graves is Helen the young, aggressively kooky girl. She is best described as a fierce hellion; a spitfire who fights to keep prying hands away from her. Susan Holiday and Carol Randolph well-play Billy's over-protective aunts who can talk to stones and eat too many sweets.
One cannot say enough about Rebecca Lenehan as Johnny's alcoholic 90 year-old mother. She is an adorable hoot with a cackle of mocking laughter. As Babbybobby, a man of decency who is duped and reacts with physical anger, John Strange is at war with his humiliation.
The set and props are meticulously detailed. That the set moves on a turntable is a wonder. Costumes are as rustic as the characters. The sound has plenty of fiddles and whistles to cast moods.
Where and When
"The Cripple of Inishmaan" at 1st Stage, 1524 Spring Hill Road. Performances through April 20: Friday 8 p.m., Saturday 2 & 8 p.m. and Sunday 2 & 7 p.m. Tickets $27 with senior, student and military discounts. Call 703-854-1856 or visit: www.1stStageTysons.org. Note: Free Parking.
"The Cripple of Inishmaan" has a distinctive charm, a strong cast, a lampooning attitude and deep heart. Northern Virginia audiences are fortunate to have the Helen Hayes recipient 1st Stage in the area.