Falls Church — Wakefield senior wrestler Henry Majano took another step toward his ultimate goal of winning a state championship, adding another accolade to his already impressive resume.
Majano captured the 132-pound title at the National District wrestling tournament on Feb. 4 at Stuart High School, beating Edison sophomore Brock Jacobson via decision in the final, 6-4. The victory gave Majano three consecutive district championships (there was no tournament in 2010 due to inclement weather, so the top seed in each weight class was named champion) to go along with his 2011 Northern Region crown and state runner-up finish.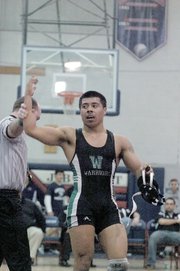 "It's special," Majano said of winning another district title. "It ranks in the top wins just because of the opponent I have. He's not a scrub. He's been around. Like me, he's been in [tough matches]."
Majano and Jacobson have faced each other several times this season. While Majano won each matchup, Jacobson has given him a run for his money, including a 3-2 Majano victory at the Northern Region Classic on Dec. 10.
"They know each other very well," Wakefield head coach Jeff Humphries said. It's just real tough wrestling the same guy over and over. … Brock gives him a tough match, gives us fits. He is a tough kid."
Matching Majano against quality opponents has been a focal point for Humphries. Majano went 43-1 last season, with his lone defeat coming against Cox's Brandon Jeske in the 130-pound state final. This season, Majano has lost to Kellum's Christian Olanowski, Georgetown Prep's Daniel Sanchez and Hayfield's Sahid Kargbo. While entering regionals with a 36-3 record doesn't sound as prestigious as being undefeated, Humphries said Majano has benefitted from facing tough competition.
"He went undefeated until the finals at states last year and I wanted him to face tougher opponents, and he sure did," Humphries said. "… He is more battled tested. I think he's also more aware that, hey, even I can lose. If I don't do it right and pay attention to details, I can lose, too."
The Northern Region meet will be held Friday and Saturday, Feb. 10-11 at Hayfield Secondary School. While Majano has already experienced success at the regional level, the Wakefield grappler said he remains excited to compete.
"I still get butterflies going into it. I'm still a human being. I still get butterflies. But I know I'm physically and mentally ready."

— Wakefield senior wrestler Henry Majano
"I still get butterflies going into it," Majano said. "I'm still a human being. I still get butterflies. But I know I'm physically and mentally ready."