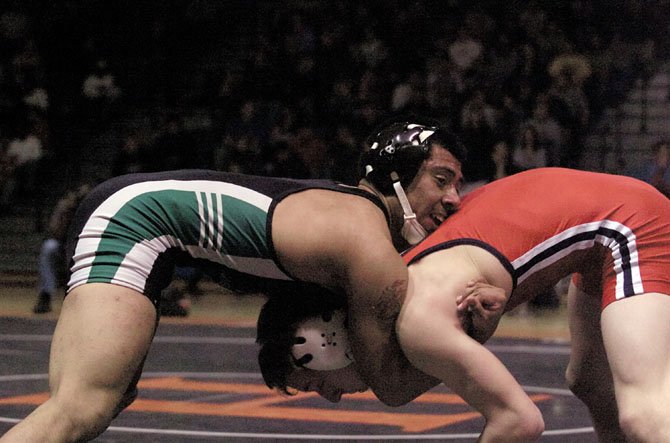 Henry Majano sat perched upon the first-place level of the awards podium during the Northern Region wrestling championships at Hayfield Secondary School.
Sporting a headband and a "Wakefield Wrestling" T-shirt, Majano listened to music through his Beats by Dr. Dre headphones (his favorite album is "Watch the Throne" by Jay-Z and Kanye West) and envisioned himself returning to his place atop the podium after his 132-pound title match. It's a ritual Majano likes to experience every time he reaches the finals of a tournament. Standing in his way on Feb. 11: Edison's Brock Jacobson.
"It's a good-luck thing," Majano said. "… I want to be [on top of the podium]. I see myself when I finish the match [as] No. 1."
Majano's vision came to fruition as he defeated Jacobson via 9-5 decision, earning the Wakefield senior his second consecutive region championship. It was the fifth meeting between Majano and Jacobson this season, with Majano coming out on top each time.
"I know I deserve this," Majano said. "I work hard every single day."
After several narrow victories against Jacobson during the season, including a 6-4 decision on Feb. 4 in the National District championship match, and a 1-0 win against Langley's Austin Miller in the region quarterfinals, Wakefield coaches instructed Majano to be more aggressive in Saturday's rematch with the Edison sophomore. Majano led 5-1 after the second period and 7-2 during the third.
Wakefield head coach Jeff Humphries' message to Majano: "Your style is to be aggressive and attack, attack, attack. Yes, you can sprawl. Yes, we know you can counter. Great, but you know, you also can attack. The best defense is a good offense."
As a junior, Majano won his first 43 matches, capturing district and region titles along the way, before losing to Cox's Brandon Jeske in the state championship match. This year, Majano enters states with a
40-3 record.
Humphries said this year's region title brings with it a different feel.
"Beating a guy that knows you so well and you can tell [Majano's] listening to us," Humphries said, "I think we have more of a confidence builder going into states."