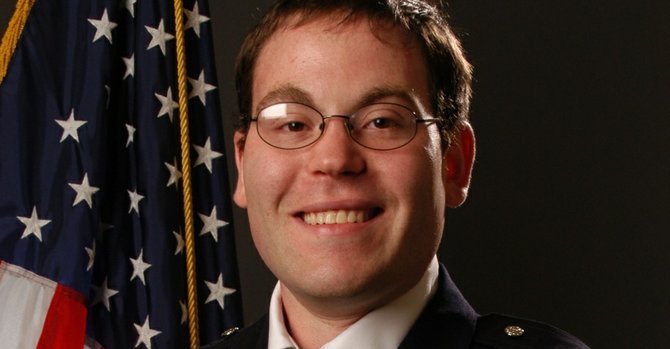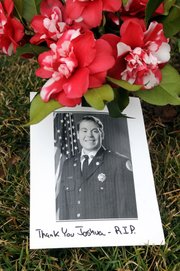 Joshua Weissman, a popular and optimistic Alexandria paramedic with a wry sense of humor, died last week after receiving a head injury while responding to a fire on Interstate 395. He was 33.
"He was an excellent technician," said Alexandria Fire Chief Adam Thiel. "But even more important than that, he showed compassion for his patients."
He died while trying to get to a vehicle fire on the overpass when he slipped and fell 20 feet into Four Mile Run Creek. He was given CPR on the scene then transported to Washington Hospital Center, where he died the next day. An investigation has been launched, and Thiel said the results will probably become part of the public record later this year.
"We're trying to get through this week right now," said the fire chief, his badge shrouded with a black band. "As you can imagine, this is a difficult time for us."
A NATIVE of Ithaca, N.Y. Weissman was born on Feb. 23, 1978. As a child, he developed an interest in fire engines and construction equipment and. The fascination grew over time, and at the age of 16 he began volunteering with the Cayuga Heights Fire Department. He soon realized his passion for providing emergency medical care. While continuing to gain education and experience as a volunteer firefighter, Weissman studied at Ithaca College receiving a bachelor of arts in history in 2000.
As a student volunteer, he lived at the fire station, where he met another volunteer, Rebecca Updike. They married in 2005.
Weissman served with several ambulance companies including Bangs in Ithaca, N.Y., TLC in Cortland, N.Y., Rural-Metro in Syracuse, N.Y. and the Washington, D.C. Fire Department. At 26, he joined the Alexandria Fire Department where he served for more than seven years. Weissman was hired as a Medic I for the Alexandria Fire Department in April 2006, and he was promoted to Medic II the following year. Most recently, he was assigned to the D Shift at Fire Station 206 on Seminary Road.
By the young age of 33, he had lived more than half his years as an emergency responder.
Thiel said the department had received countless letters and emails from people that Weissman had helped in his role as a paramedic over the years, an indication that his patients seemed to care as much about Weissman as he did about them. In one situation, for example, he responded to a incident in which a grandmother who had been carrying her young grandson tripped and fell. The boy's mother, upon arriving home after the incident, was concerned with the medical status of her son. Weissman revisited the home and reassured the mother that he had thoroughly checked the little boy during the initial response, alleviating the mother's concerns. The mother was so impressed by Weissman's concern that she wrote a letter to the fire chief expressing her appreciation for his actions.
FIRE OFFICIALS praised Weissman's clinical skills and commitment to those he served. He was known to visit the homes of the individuals and families he helped, providing comfort even after an emergency subsided. Beyond serving as an emergency responder, Weissman participated in numerous committees for the department and as an instructor. Weissman's work has been recognized by numerous awards, including the Alexandria Jaycees Award in 2011 for his contributions to the Field Training Program for EMS Interns, and the Alexandria Chamber of Commerce Valor Award. He was an active participant in the EMS Training Committee and the EMS Quality Management Committee. Weissman was also involved in establishing and implementing a training program on mass casualty incidents.
Beyond work and family Weissman filled his life with his love of construction equipment, American history, caring for his garden, playing with his most loved cat Nahla and as a proud fan of the New York Rangers, New York Jets and the New York Mets.
He is survived by his wife Rebecca; his parents, Edward and Frances Weissman; his brother and sister-in-law Gabriel and Jessica Weissman; father and mother-in-law Ronald and Maureen Updike and Rebecca's sisters and brother-in-laws Sarah and Rodney Smith, Michelle Updike and Charles McCreless, Kristin and Steven Pronko and finally his nephew and niece Trevor and Madison Smith.