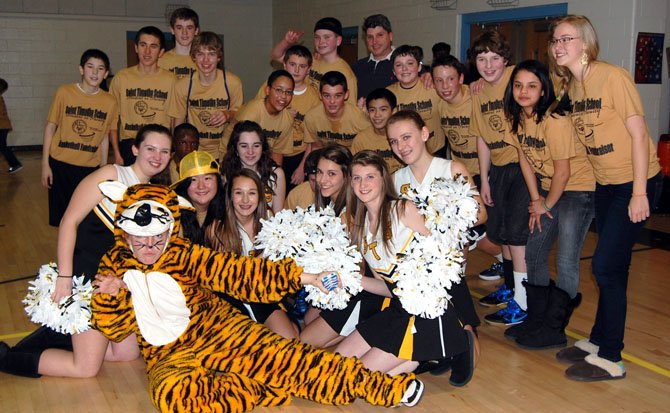 In honor of Catholic schools week, St. Timothy School hosted a Student vs. Faculty/Alumni basketball game last week, raising over $10,000 to set up an educational scholarship fund as a memorial to pay tribute to the late Barbara Mertens, a St. Timothy teacher who lost her battle against cancer this past September. With over 20 years of experience as a teacher and administrator in the Arlington diocese, Mertens was an inspiration to everyone she met. Her joy was bringing Christ to the children each and every day at school. She also believed every child should have the opportunity to receive a Catholic education if they desired one. Her motto was "God is good, all the time, God is good … and so are you."
The basketball game was close until the final seconds of the game, when 8th grader Andrew Collins made the students' final basket to give the students a 2-point victory over the faculty and alumni.

Kelly Schmank, event coordinator, said, "It really didn't matter who won the game, in the end, it was about bringing people together to remember a fantastic teacher and support her memory through this scholarship, and to have a fun time."