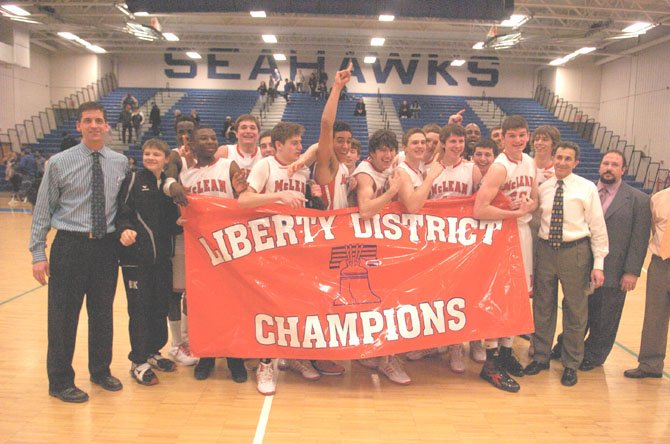 High school championship games do not get much more dramatic or better than the one played last Friday night at South Lakes High School in Reston between the McLean Highlanders and Fairfax Rebels.
In a Liberty District boys' championship game thriller that McLean, on several occasions throughout the night, appeared to have well in hand, the Highlanders finally prevailed over the relentless Rebels, 60-57, in double overtime.
"This was the biggest game in school history," said McLean High senior guard and tournament MVP Gordon Rogo, who scored nine of his 21 points in overtime play. "I don't know the last time we won a district championship – not in my lifetime. I didn't think I would feel this emotional."

McLean, which has shown steady improvement over recent years under head coach Kevin Roller, finally reached the pinnacle of district success by garnering the district crown. In recent years, the Highlanders, despite having good teams, have played in the shadow of cross-town district rival and district power Langley. But the Saxons, who had won the district tournament title each of the past three years, fell short of winning a fourth straight crown last week. The top-seeded Saxons, coming off another outstanding regular season, lost a semifinals game to Fairfax, the No. 4-seed, on Thursday, Feb. 16.
The Rebels, under first year head coach Mike Barbee, had beaten No. 5 Stone Bridge, 61-54, in a quarterfinals round contest earlier last week on Tuesday, Feb. 14. They then upset Langley, 56-49, in the round of four, somewhat avenging a 69-43 loss to the Saxons back on Jan. 26.
The semifinals triumph over Langley put Fairfax into Friday's finals versus McLean, the No. 2 seed which had split a pair of games with the Rebels during the regular season. McLean reached the finals with wins over No. 7 Madison, 60-39, and No. 6 Jefferson, 52-38.
So it was a different championship game look for Liberty District fans who were used to Travis Hess's Langley team playing for the title.
But those on hand Friday could not have asked for a better championship ball game in which McLean, which led by as many as 11 points in the first quarter, held a seven-point advantage nearly midway through the third quarter, and was in front by four points with 40 seconds remaining in the first four minute overtime, looked to be in control of much of the contest.
FAIRFAX JUNIOR guard Zack Burnett played spectacularly, especially in the clutch, finishing with a game-high 24 points. He was practically out of this world over the final 90 seconds of the first overtime to keep his team alive and force a second four minute session.
Fairfax, in the first OT, trailed 50-47 following a three-pointer off the right corner by McLean senior forward Kevin Lastova (6 points) with two minutes, 14 seconds left. But a couple possessions later, Burnett nailed a deep three-pointer from the left wing to tie the contest at 50 with 1:30 remaining. However, McLean, thanks to four consecutive points by Rogo (driving basket, 2 free throws), held a 54-50 advantage with just 40 seconds left.
Burnett got his team within 54-53 with another three-pointer shot from the left wing with 28 seconds showing. Rogo made one of two free throws with 23 ticks left to give McLean a 55-53 lead. Following a couple of timeouts, Fairfax set up for a last shot. Burnett, off a pass from teammate John Robic, got the ball on the right corner of the floor well away from the basket. Despite being under heavy defense, he somehow got around to the baseline and started going towards the basket. He then pulled up from about eight-feet away and made his shot from the baseline which tied the game, 55-55, at the overtime buzzer. The Fairfax student body was ecstatic as the game moved into the second overtime.
There, Rogo opened the scoring with a nifty 10-foot turnaround backboard shot from the left side to make the score 57-55 with 3:20 left. The game's next points came nearly two minutes later when McLean senior shooting guard Daniel Lewis (12 points, including three treys), moments after having a shot blocked on the same possession, converted on a hard driving shot to the basket to give the Highlanders a 59-55 lead with 1:42 left. Fairfax got within 59-57 on a midrange shot off the right side by junior guard Zach Intermill with 46 seconds remaining.
Fairfax, in the game's closing seconds, missed from the field and McLean's Thomas Van Wazer (11 points) grabbed the crucial defensive rebound before being fouled. He made one of two shots from the foul line to give McLean a 60-57 lead with three seconds left to play. Fairfax's Burnett missed a deep three-point shot try from the right corner as the final buzzer sounded.
A swarm of ecstatic McLean students, despite pleas from the public address announcer to stay off the court at game's end, spontaneously flooded the floor to celebrate with their heroes. Not much could have stopped the Highlander students from joining the players as the classic contest ended.
"That was the greatest experience of my life," said Van Wazer, a 6-foot-3 inch senior forward, of the moments when the game finally ended and the Highlander faithful stormed the floor. "When you're five years old you dream of winning championships with the crowd like that."

Van Wazer said McLean hung tough following Burnett's buzzer-beater basket which extended the game into a second overtime.
"It was deflating but we have great competitors and great team chemistry," he said.

Rogo, the classy McLean senior backcourt player who seemed to come up with big plays throughout the game for the Highlanders, was named Tourney MVP during postgame ceremonies. Van Wazer was also named to the six-member All-Tournament Team. From Fairfax, Burnett and junior guard John Robic (14 points) both made it. Also named to the All-Tourney Team was senior guard Daniel Dixon from Langley and senior guard Richard Kuzma of Jefferson.
Fairfax, in the finals game, converted four three-pointers, all from Burnett. Daniel Frank, the Rebels' gritty, undersized post player, finished with six points and eight rebounds. Matt Frank, also a front court player, added five points and seven boards.
McLean converted five long range treys on the night, three from Lewis and one apiece from Lastova and Van Wazer. Junior center John Pascoe scored eight points and had four rebounds.
Both McLean, which held a remarkable 22-3 following the district finals win, and Fairfax (14-11) were scheduled to play first round Northern Region home playoff games earlier this week on Monday, Feb. 20 – McLean versus Lake Braddock, and Fairfax versus W.T. Woodson. Langley (16-7) was to play South County.