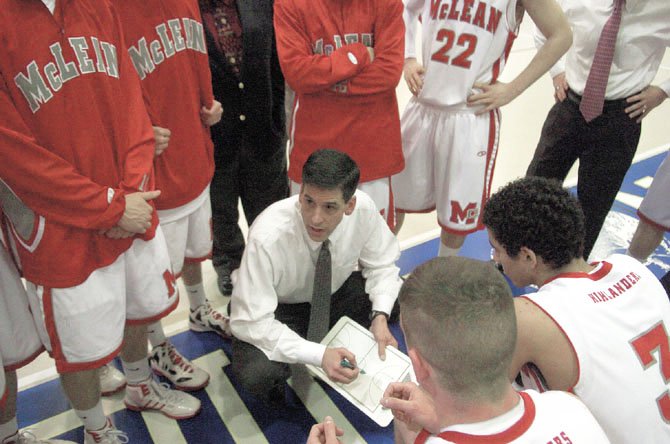 The McLean High boys' basketball squad, under head coach Kevin Roller, had one of the best teams in school history this season, enjoying an outstanding regular season followed by a postseason in which the Highlanders captured the Liberty District tournament title and ultimately went all the way to the Northern Region tournament semifinals.
McLean's season ended last Saturday night, Feb. 25 when it lost a region tournament final four game to Westfield High, 55-41, at Robinson Secondary School. The game was close through three quarters with the Highlanders, who trailed just 24-22 at halftime, behind by just a 42-39 deficit. But Westfield, which features the region's top big man player in 6-foot-11 inch senior center Zach Elcano, outscored the Highlanders by a 13-2 margin in the final quarter to go on to the playoff victory.
McLean, which reached the 16-team regional semifinals with home victories earlier last week over both Lake Braddock, 54-45, and Centreville, 62-47, finished the season with a pulsating 24-4 overall record.
UP UNTIL THE LAST several years, McLean basketball had, for the most part, been a struggling program in the region back to its days in the old Great Falls District in the 1970s and 80s and on into its time as part of the Liberty. But under coach Roller the Highlanders, in the past couple of seasons in particular, have emerged into one of the better teams across the region.
Last year, McLean finished a solid 13-9 but lost its first round region playoff game to Yorktown, 74-42. A year before that, the team went 10-11 with a first round region playoff setback to Oakton in February of 2010. In the 2009 region playoffs, the Highlanders lost to T.C. Williams in the first round to conclude an 8-16 season. And In the 2008 postseason, McLean, under Roller, got all the way to the district tournament finals before losing to Langley in the championship game. In the following week's regionals, the Highlanders lost a first round heart-breaker at Mount Vernon High, 54-52, to finish that season 14-12.
So this winter's playoff success, including a district title and a couple of region playoff wins, was an accomplishment which had been elusive for the program.
This year's McLean team, like others under Roller, played together as a unit. But along with that team attribute, the Highlanders were able to become a region force because they were made up of seasoned, determined players on their roster and a handful of stars. Players knew and accepted their roles and played hard from start to finish in games. The result was a season in which wins became the normal outcome and losses were quite few.
An early season 10-game win streak, which began with a 50-48 win at eventual region finalist Westfield on Dec. 9 and also included victories over perennial region force Chantilly (the 2010 region champions) and talented cross-town private school opponent Potomac School (this year's Mid Atlantic Conference champions) , got McLean off to a 12-1 start.
The long win streak was snapped by a district home loss to Fairfax, 59-53, on Jan. 13. The Rebels, like McLean, would ultimately go as far as the region semifinals. Following the loss to Fairfax, McLean also fell at local and district rival Langley, the three-time defending district champions who defeated the visiting Highlanders, 55-52, in an overtime affair on Jan. 17.
But McLean did not lose another regular season game thereafter, winning its next seven games and entering the district tournament with a 19-2 record and the No. 2-seed at the district tournament.
In McLean's final two regular season games, it defeated Fairfax and Langley to avenge the earlier losses to both.

AT DISTRICTS, McLean continued its red hot play with decisive victories over No. 7-seed Madison, 60-39, and No. 6 Jefferson, 52-38. The Colonials, in their first round game, had upset No. 3 South Lakes.
In the district finals, McLean faced an upstart Fairfax team under first year coach Mike Barbee which had upset top seed Langley, 56-49, in a district semifinals game. The Rebels and Highlanders, in one of the most exciting games in the Northern Region this winter, played a thrilling double overtime affair won by McLean, 60-57. McLean senior point guard Gordon Rogo earned tournament MVP honors and teammate Thomas Van Wazer, a senior forward, also made the six-member All-Tourney squad.
With the three district tournament wins, McLean was riding another 10-game win streak going into last week's region tournament. The Highlanders, who for so long had been looking to finally attain a breakthrough first round region playoff win, got it when they defeated an always tough Lake Braddock squad, 54-45, at home last Monday, Feb. 20.
In front of its vocal, fired-up student body, McLean overcame a slow start in which it fell behind 8-2 after one quarter and trailed 25-20 at halftime to the underdog Bruins (14-10), the Patriot District team under highly regarded head coach Brian Mettress. But the Highlanders were dominant in the second half, outscoring their guests 34-20, on way to the comeback win.
Van Wazer (22 points) and senior guard Sango Amolo (16) led the Highlanders, while Rogo was also in double figures with 10 points.
McLean, two days later, won a quarterfinals round contest over guest Centreville High (Concorde District), 62-47. In that game, it was the Highlanders who took early control, grabbing a 19-7 lead after one quarter and holding a 28-18 advantage at the half. The Highlanders effectively put the game away in the third quarter when they outscored the Wildcats (11-14), 20-9. Van Wazer and Rogo, both First Team All-Liberty District selections this season, scored 19 and 17 points, respectively, and John Pascoe, a junior center, contributed 12 points.
The win advanced McLean into the Region Final Four where it faced Westfield last Saturday. McLean's leading scorers in the season-ending loss were Rogo (16 points), Amolo (10), and senior forward Kevin Lastova (9). Westfield (23-4), the Concorde District champions who advanced to a region title game meeting with Edison, had big games from point guard Julius Rosa (14 points), big man Elcano (13), and Chauncey Beckett (11).
The loss prevented McLean from reaching the finals and qualifying for the upcoming eight-team state AAA playoffs. Nevertheless, it was a remarkable breakout season for the Highlanders who will always be looked upon as one of the best McLean High teams ever.