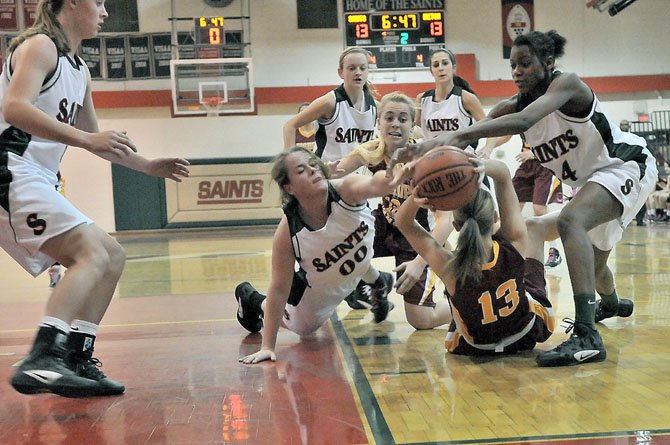 Alexandria — Bishop Ireton senior Laura Hart had to watch the final pressure-packed moments of the Cardinals' VISAA state playoff game against St. Stephen's & St. Agnes from the bench. But prior to fouling out, it was Hart's double-double and presence in the paint that helped bring the Cardinals stability in an otherwise sloppy contest.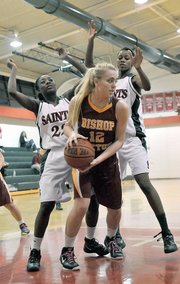 Hart's offensive rebounding and strong defensive effort helped Ireton survive 31 turnovers as the 12th-seeded Cardinals knocked off No. 5 St. Stephen's 45-43 at SSSAS on Feb. 28. Hart finished with a team-high 10 points and 12 rebounds, including five offensive boards. Three times Hart grabbed an offensive rebound and scored on a putback.
"Laura's been this way for the last four games straight," second-year Ireton head coach Derek Campbell said. "She's been the catalyst. She's been the one to set the tone. Defensively, she's started out on their best player. She's one of our best defenders."
Defensively, Ireton forced 32 turnovers and thwarted a Saints in-bounds play in the game's closing seconds. Leading 44-43 with 7 seconds remaining, the Cardinals forced a held ball under their basket. The possession arrow pointed Ireton's way and the Cardinals added a free throw before the Saints' final desperation heave fell short.
Ireton also limited St. Stephen's standout Dhyamond Crenshaw to 12 points. Crenshaw scored 17 in the teams' first meeting and entered the game averaging more than 20 per contest.
Ireton lost to St. Stephen's 52-51 on Dec. 2 during the Saints' tournament — a loss that Campbell said motivated the Cardinals.
"We came in with a chip on our shoulder losing to those guys in the beginning of the year in their tournament," he said. "… [Pressure defense is] what we wanted to do. Initially we knew their ball handlers were kind of shaky."
The victory was another feather in the cap of a rebuilding Ireton program that earlier this season earned its first Washington Catholic Athletic Conference victory since the 2007-08 season, beating Bishop O'Connell 59-50 on Jan. 16. The Cardinals also beat Bishop McNamara 49-42 on Feb. 23 in a WCAC tournament play-in game.
"Knowing that we're leading the school in a positive direction in basketball, it feels really good."

— Bishop Ireton senior Laura Hart
"Knowing that we're leading the school in a positive direction in basketball, it feels really good," Hart said. "To know we had a positive influence, we didn't just keep the school standard of losing.
We broke the [conference] losing streak, it's a really good feeling that we'll all remember."
Mara Celis-Copelotti and Camille Weber each scored seven points against SSSAS. Celis-Copelotti is the team's leading scorer at 8.4 points per game and Weber is second at 7.4.
Bianca Ojiegbe scored four points, grabbed eight rebounds and totaled six blocks against the Saints.
While Ireton won the game, St. Stephen's finished the season with its own feel-good story. The Saints won 20 games and captured the regular season ISL A championship, the program's first in 15 years. They also finished runner-up in the ISL A tournament.
"We came in with the idea this would be a rebuilding year," eighth-year St. Stephen's head coach Calvin Crenshaw said. "So after winning 20 games in a rebuilding year … I commend the kids. I'd say 70 percent of my kids are going to college for another sport."
The play of Dhyamond Crenshaw was one reason for the Saints' success. The 6-foot junior transferred from Robinson and averaged 22.9 points while playing for her father, Calvin. She scored at least 30 points in three straight games against Highland, Potomac School and Madeira in late January and early February, including a season-high 35 against Highland on Jan. 27.
Basketball is Crenshaw's primary sport. She said it took time to get used to playing with her St. Stephen's teammates, many of whom aren't basketball-first athletes.
"It was difficult," she said. "At Robinson, you have people who mostly just play basketball. But here, everyone plays every different sport that there is, like lacrosse. To just come in and play basketball, they have done a terrific job. … It was a huge transformation just to come here and be a captain and to be a leader and have everybody look up to me. It was a big role."
Lizzie Zulauf led the Saints with 18 points against Ireton. The junior guard knocked down four 3-pointers.