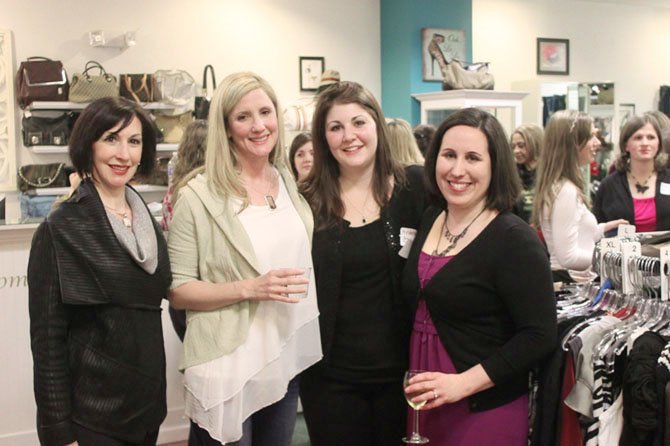 On the night of Feb. 21, local moms tweeted, linked, and blogged in real time from NOVALive, a networking and charity event held at Fairfax Corner's upscale consignment boutique, Chic Envy. Organizers Micaela Williamson (www.supernovamommy.com) of Burke and Andrea Khoury (www.novahousewives.com) of Centreville teamed up to celebrate and expand the mom-blogging community as well as raise funds for a worthy cause, Mission Sleep.
The non-profit division of Let Mommy Sleep, Mission Sleep provides free, overnight newborn care to moms whose husbands are deployed or wounded warriors. Owner and Bristow resident Denise Stern felt it was important to offer the support of registered and licensed practical nurses to this special group of new moms.
"I wish we didn't have to charge [for Let Mommy Sleep] and could provide it to every parent who needs it," Stern, mother of three children under the age of 4, comments. She partners with Walter Reed Medical Center to identify military wives who need a helping hand after their babies are born.
"Having raised two kids myself I know how difficult the newborn phase is," Williamson observes. "So I thought it was a great cause to support."
Khoury agrees, "It's a good organization, it's local, and it's new. It just needed some PR to get it off the ground."
In addition to raising almost $800 for Mission Sleep through event registration fees and raffle tickets, NOVALive gave local mom bloggers the opportunity to interact in person.
Khoury, whose blog Real Housewives of Northern Virginia offers "community happenings, giveaways, and gossip", explains, "We wanted to increase the network of women. A lot of us share the same content: events, information, general resources for women in northern Virginia. We're able to partner and connect, so there's no competition in the blogger world."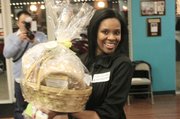 "We interact online so much that we never put a face to a name," Williamson notes. "It's nice to meet in person because online we support each other's causes and help create each other's fan bases through social media networking." Her site SuperNOVAmommy offers a calendar listing local free and cheap children's events. In addition, she posts interviews with mom entrepreneurs, descriptions of fun venues in the Northern Virginia area, and tips from other mom bloggers.
LOCAL BUSINESSES donated refreshments and giveaways to the event. Meanwhile, Chic Envy offered a discount on their diverse selection of consigned upscale fashions.
Christina Crawford, co-owner of Chic Envy with her daughter Rhianna Dollar, was more than happy to share her store for NOVALive. She says, "This is another way for us to do something for the community." A military spouse herself, she loves the idea behind Mission Sleep.
Chic Envy opened 2.5 years ago when Crawford's daughter graduated from college. The women both loved clothes, shoes, and handbags and thought a consignment shop, where clothing is reused, was a green alternative to the typical store. They were also excited to create jobs in the community. The mom and daughter team looks forward to opening another store in Gainesville by the end of the year.
Williamson and Khoury were grateful to the area businesses who donated products for the giveaways and swag bags, including a $400 gift package from Red Door Spa in Fairfax Corner and a bread basket from Great Harvest Bread Company in Burke. Attendees were encouraged to tweet or blog about the products and services they liked. Lost Creek Winery (lostcreekwinery.com) in Leesburg poured samples of their wines while bloggers nibbled on custom-made cookies from J and J Bakery, cupcakes from the Sweetest Soiree, and cake pops from Simply Desserts.
Sales representatives from AT&T highlighted the growing demand for data services via handheld devices and gave away prizes such as Bluetooth headphones, battery chargers, and an iPad.
Of the almost fifty attendees, bloggers ranged from moms with newer sites to more experienced writers with large fan bases. DeLise Bernard's blog, Our Life Memories (www.ourlifememories.com), will turn one in March. She details daily adventures with her two children, ages 4 and 1, in D.C., Northern Virginia, and Maryland, and reviews each kid-friendly venue they explore.
"[I wanted] a space that they could look to later for the memories we created when they were children," Bernard explains. She also compiles "kidtineraries" for families visiting the area or local moms who are too busy to scour the Internet for fun activities.
She appreciated NOVALive as an opportunity to learn from the veteran bloggers and to use her blog to support the community.
Herndon mom blogger Liz Jones created Dulles Moms (www.dullesmoms.com) two years ago. Her site helps families in the Dulles area stay informed about events and activities.
Each month, Jones lists 1,500 events in the Dulles area and nets about 40,000 visitors to her site.
She enjoyed chatting with other bloggers at NOVALive. "We can really benefit each other in a lot of ways," she notes. "I have a lot of people that come to me for advertisements, or for contests, or for blogging opportunities and I can share that with a neighboring site and really expand the coverage."
For more information about Mission Sleep, visit www.missionsleep.org