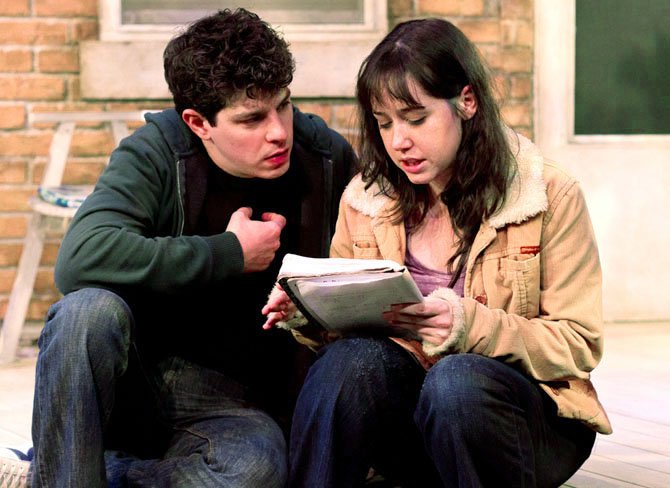 Making it in the competitive world of professional theater is no easy feat. Many have dreams but a precious few have the spotlight shine on them. Alex Keiper, Fairfax native and 2002 Chantilly High School graduate is one of those few. She will return to the area in a starring role in the upcoming, professional theater production of "Proof" at George Mason University.
Keiper will appear in the Walnut Street Theatre's production of David Auburn's Pulitzer Prize-Winning and Tony Award winning play. Directed by Kate Galvin, "Proof" is a play about family, genius, mental illness and love. She has the lead role of Catherine, a young woman who leaves college to care for her father, a mathematical genius struggling with mental illness. A startling mathematical proof is discovered after her father dies. The discovery along with an unexpected romance with a former student of her father's leads Catherine to unsettling questions.
Keiper credits her own dad, who was an actor when she was growing up, for theater interests. She recalled "so often listening to and doing monologues with dad...and just always wanting to be an actor." Keiper also credited teachers at Chantilly High such as Edward Monk and others for "being so positive about my acting abilities and always supporting me."

Monk described Keiper as "having this amazing energy that just radiated out of her in person and on stage. She really loved theatre and wanted to be the very best on stage that she could be...It is not surprising to me at all that she has had so much success." She worked very hard according to Monk. In the Chantilly High production of the rarely performed "Moby Dick Rehearsed" by Orson Welles, she "played Starbuck and absolutely nailed the role."
From Chantilly High, Keiper graduated from the University of the Arts in Philadelphia. After graduation she worked in musical theater developing and performing in "edgy, new productions." She works regularly with the Walnut Theatre and the Arden Theater both based in Philadelphia.

Where and When
Walnut Street Theatre's production of "Proof," George Mason University, Center for the Arts, 4400 University Drive, Fairfax, VA. 22030. Performance 8 p.m., Friday, March 2, 2012. Tickets: $20-$40. Call 888-945-2468 or visit cfa.gmu.edu. Note: Pre-performance discussion by Ken Adelson, Chair, Theater Department, George Mason University.
Keiper spoke of " the value of hard work and making sure that directors and other actors learned to trust her." She mentioned she likes to "dig deeply into her roles and especially enjoys edgy characters and developing new characters, ones that have not been done before and can involve big risks."
Asked what is next, Keiper spoke of "always working to challenge myself as an actor."