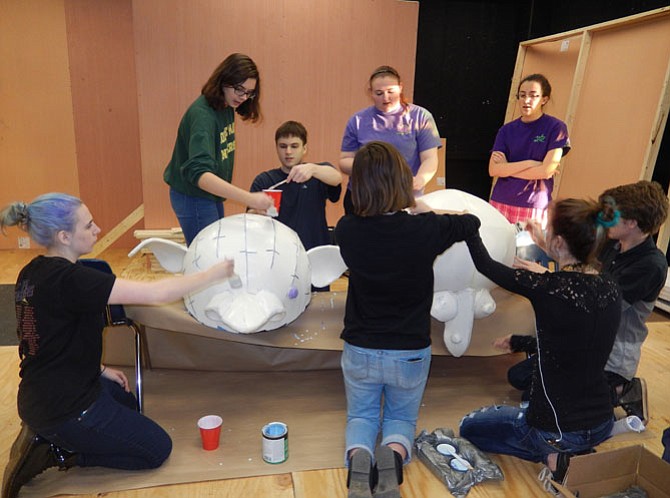 Take two popular fairytales, add a couple gigantic puppets and mix well inside the mind of Chantilly High Theater Director Ed Monk, and the result is the school's upcoming children's play.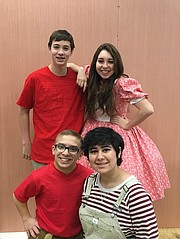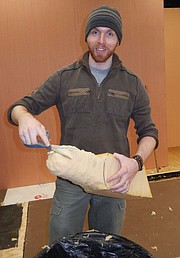 Written by Monk, "Jack and Jill and the Beanstalk" is set for Friday, Jan. 29, at 7 p.m.; Saturday, Jan. 30, at 2 and 7 p.m.; and Sunday, Jan. 31, at 2 p.m. Tickets are $5 at the door or via www.chantillyhsdrama.com. A mashup of two stories, the show is double-cast and has a cast and crew of 60.
"Jack gets his family in trouble because he grew an illegal beanstalk and the city fines them $20,000," said Monk. "So he and his friend Jill — who's secretly in love with him — have to find a way to get some money to keep Jack's family from going to jail. But at the top of the beanstalk, they find many amazing things — including two giants."
Chantilly received a grant from the Wolf Trap Foundation for the Arts to bring a group of elementary-school students to see the show during the day and to bring in a puppet designer to teach Chantilly's thespians how to build puppets. So they created two, huge puppets to portray the giants and, said Monk, "That's been a very cool process to watch. One student will be inside each giant costume, operating the mouth and saying the lines, while two other students work the arms."
Freshmen and sophomores put on the school's children's shows, and Monk said, "As always, it's fun to see the new talent in the Drama Department. And we're excited to have people come see the show because it's going to be a lot of fun for everyone."
Sophomore Patrick Collins plays Jack. "He's a poor boy, about 13, and is energetic and fun to be around," said Collins. "But he doesn't think before acting and is sometimes unaware of what's happening around him. He's also socially awkward and lonely and doesn't have many friends, so he talks to his cow."
Collins likes his role because, although it's a challenge since it's his first big part, "Jack kind of carries the play." He says the audience will love the show because "There are many timely, topical jokes that the parents will enjoy while the kids will like watching the characters' funny actions."
Portraying Jack's estranged father, Milton Weedwhacker, is sophomore Ben Klosky. He's normally a lighting tech but, for this production, he's become an actor. "Jack's father disappeared mysteriously, two years earlier, but reappeared when he ran out of chip dip in the basement, where he's been hiding," said Klosky. "He's a little timid, but tries to assert himself and doesn't like it when people get in the way of his sports-watching."
He, too, is enjoying acting and "can see myself sticking with it in the future. My character has lots of one-liners and jokes, and the audience will love him and what he brings to this show." Besides that, said Klosky, "The kids will like the neat, bright colors of the changing background lighting, the wacky characters and the bizarre and unique costumes."
Sophomore Caroline Woodson plays Jill. "She's still a little girl trying to grow up and is dealing with her parents' pressure on her to fall in love," said Woodson. "But she's strong in her beliefs and is willing to tell Jack when he's being an idiot. She also pretends not to like him, when she really does. She's bubbly, confident and girly, while unafraid to speak her mind."
Woodson's having fun playing someone younger than her and, she said, "I can use big motions in a children's show. And Jill uses her intelligence to get her out of tough situations, which is a good character trait to have." Woodson said both children and adults will find humor in this show and "everyone's worked so hard to create unique characters to make this play different from any others."
She's also on the costume team and said, "We used bright, colorful, fairytale clothing mixed with modern-day outfits so it looks like a modern fairytale," said Woodson. "And we're even making a special costume so a goose can lay three eggs on stage."
Matthew Aldwin McGee is the professional actor and puppet designer working with the students. He's guided them through the process of building giant puppets out of different types of foam rubber.
"They helped transfer the pattern to the foam and learned how to get from the design stage to the finished product," said McGee. "I'm also working with the actors who play the giants to help them bring the puppet characters to life. Three students will have to work in synch as a team to make each giant move and speak. And that's a harder challenge for an actor than to just play one character by himself."
To give them height and scale, the giants' heads were placed on a pole attached to a harness and backpack worn by the students. Then their costumes were draped and fitted onto the arms and head.
"It's been fun; different people each day have worked on it," said McGee. "They've been excited to see the progress and see the puppets taking shape. I'm the puppet designer and they're the labor; but by helping out, they've learned how it's done and have learned a different side of theater and a different skill set."