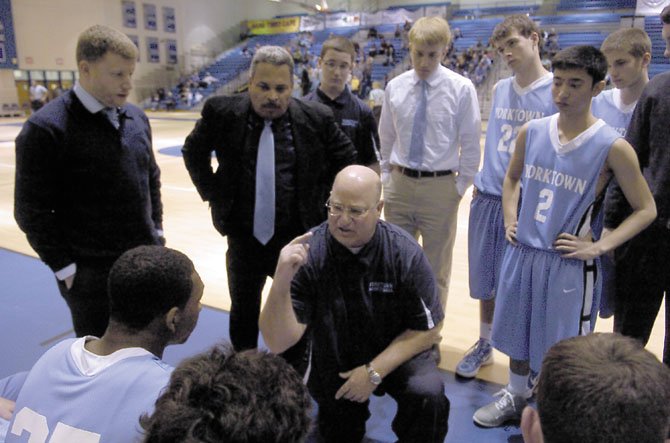 Fairfax — Jack Earley finished his high school career as the Yorktown boys' basketball program's all-time leading scorer. But with the Patriots' season on the line against Fairfax in the regional quarterfinals on Feb. 22, Earley's opportunities to put the ball in the bucket were few and far between.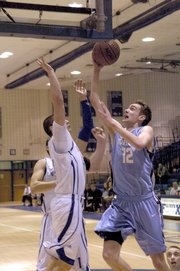 After trailing by as many as 19 points in the first half, Yorktown pulled to within six early in the third quarter. But the Patriots managed just 11 points during the final 13 minutes, 47 seconds and ended its season with a 58-38 loss to the Rebels at Fairfax High School.
While Yorktown racked up scoreless possessions down the stretch, Earley saw limited touches during his final half of basketball in a Yorktown uniform.
"We just made bad decisions," Yorktown head coach Rich Avila said. "We cut it to [six] and came down the court and took two lousy [shots]. … We just weren't running anything. We just came down and started playing one-on-one basketball. … We just didn't have a very good basketball IQ tonight."
Fairfax led 19-5 at the end of the first quarter and extended its lead to 25-6 around the midway point of the second. Yorktown started to chip away, however, and, after being held scoreless for the first 13 minutes of the game, Early scored eight points in the final 2:27 of the first half, pulling the Patriots within 10 by halftime. After a Fairfax field goal to open the third quarter, Nick Yore, M.J. Stewart and Zack Esherick each scored for Yorktown to pull the Patriots within six at 33-27 with 5:47 remaining in the period. But that's as close as Yorktown would get as the Patriots managed just three field goals for the remainder of the contest.
"We went over the scouting report, we worked on everything that they do," Avila said. "We ran their stuff in practice with the scout team and no matter what we did, even though we knew what they were going to do, they just executed better than we did. We dug ourselves a big hole and we just couldn't overcome it."
Yorktown's lackluster performance came two days after the Patriots upset Concorde District champion Robinson 54-48 in the opening round of the regional tournament.
"I think our issue the whole season was inconsistency," Earley said. "Some games we played great and then next game we come out and we don't play very well. That's what happened in the playoffs. We played great against Robinson and then we had a hard time carrying it over into tonight."
Earley finished the Fairfax game with 12 points, giving him 1,211 for his career — the most ever by a Yorktown player. Earley, a four-year starter, also amassed 635 rebounds, 290 assists and 151 steals, the most in each category during Avila's nine-year tenure as Yorktown coach. Earley said he plans to play at Claremont McKenna College in California.
When asked what most stood out to him about playing at Yorktown, Earley said: "The whole experience. I've loved every minute of it. I've been up here four years. I loved playing with my brother [Ben] for two years. It's been a great ride."
Yorktown finished its season by reaching the region quarterfinals for the third consecutive season. In 2010, the Patriots advanced to the final four.
Yorktown loses just two seniors to graduation. Yore, a 6-foot-4 junior post, Stewart, a 6-foot junior guard, and 5-foot-7 sophomore guard Jeremiah Leano are some of Yorktown's potential impact players for next season.
"Last year, we got to the same spot," Yore said of advancing to the region's final eight. "We'll have most of the guys coming back besides Jack and [Andrew] Logan, so we can make a run at it again, but we've got to be able to get past this spot and get to the final four."