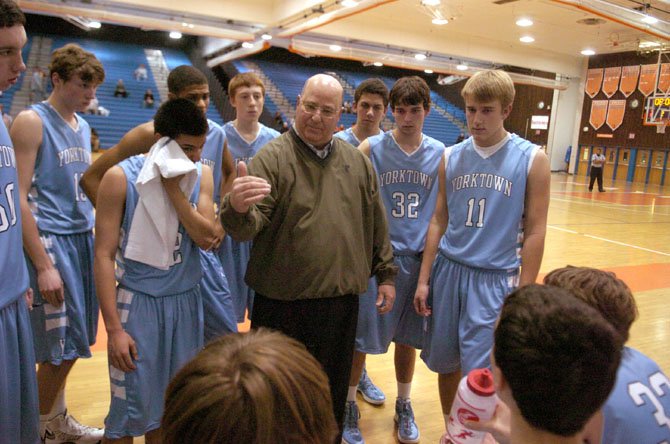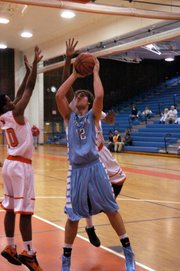 Alexandria — It started with an 11-0 run, snowballed into a 29-point halftime lead and concluded with reserve forward Jonathan Shears burying a 3-pointer in the final minute, sending the Yorktown bench into a frenzy.
Along the way, 6-foot-4 Nick Yore made a game-changing impact in the paint, Matt Pietropaoli produced a double-double and the Patriots shot the ball so well the opposing head coach described their performance as "ridiculous."
The Yorktown boys' basketball team thumped Hayfield 70-42 on Monday during senior night at Hayfield Secondary School. The Hawks entered the Jan. 14 contest on an 11-game winning streak and sat atop the National District standings with a 6-0 record. Meanwhile, Yorktown had lost its last two games, including a 33-point shellacking at the hands of Wakefield just three days prior.
In a surprising twist, it was Yorktown that came out on fire, scoring the game's first 11 points en route to a 16-2 lead at the end of the first quarter. The Patriots kept their foot on the gas in the second period, as Edmund Pendleton and Pietropaoli each buried a 3-pointer and Yorktown built a 36-7 halftime advantage.
Changing ends of the floor didn't slow the Patriots. A putback by Yore, a bucket by Pietropaoli and a 3-pointer by Ben Criswell gave Yorktown a 43-7 lead in the opening minutes of the third quarter. The Patriots led 54-23 at the end of the period and cruised to victory.
"We took smart shots tonight," said Pietropaoli, who scored 13 points and grabbed 12 rebounds. "We didn't rush anything. We waited for the offense to come to us. When you take high-percentage shots, they go in."
"We're a contender in this league. To beat a team [that is] 6-0 [in the district] at home on senior night by that margin, it's a big statement."

— Yorktown senior Matt Pietropaoli
Yore's performance was a big reason behind the Patriots' success. Head coach Rich Avila said the Patriots, who usually run a flex offense, spread the floor against Hayfield in an effort to get the ball inside to Yore, who hadn't had many offensive opportunities in recent games. The senior finished with 17 points and eight rebounds.
"Nick hasn't been scoring," Avila said. "He hasn't been getting many touches in there so we went to more of an open offense and tried to get him the ball right away in there so he could go to work. It worked out pretty good because if he wasn't making his shot, he was kicking it out and we were knocking down shots."
Yore said Monday's approach was quite different from that of Friday's 74-41 loss to Wakefield.
"We really did get crushed by Wakefield. We were taking a lot of 3s that game and they just ran us off the court," Yore said. "… Tonight, we played more inside-out than outside-in. They would get the ball to me and I would try to make a move, kick out to one of [my teammates] for shots and they hit shots."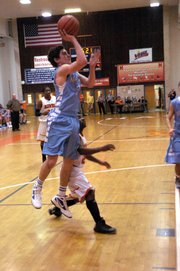 Yorktown junior Zack Esherick scored a game-high 18 points and grabbed seven rebounds. His 3-pointer from the left corner midway through the third quarter gave the Patriots a 50-14 lead.
Criswell scored 10 points and knocked down a pair of 3-pointers. Pendleton scored five points, Pedro Soto finished with four and Shears added three.
Hayfield played the entire first half of its district schedule at home, meaning senior night came in mid-January for the Hawks. First-year head coach Carlos Poindexter used a starting lineup composed of five seniors, leaving leading scorer Amir Atkins, a junior, to come off the bench. Poindexter said using a different starting lineup could have contributed to the Hawks' slow start.
"It was a combination of [a] bad night, [Yorktown] shooting well and us not playing at our potential," Poindexter said. "… They shot the hell out of the basketball — maybe 70 percent. It was ridiculous how well they shot the basketball. When that happens and we shoot bad and we're not playing defense, then you lose by [28]."
Brandon Lawson led Hayfield with 13 points. Atkins, who Poindexter said was averaging more than 17 points per contest, finished with one field goal and seven points.
Hayfield fell to 11-4 overall and 6-1 in the district. The Hawks will play their final seven district games on the road. Yorktown improved to 6-8 overall and 3-4 in the district. The Patriots will play five of their final seven district games at home.
"We're a contender in this league," Pietropaoli said. "To beat a team [that is] 6-0 at home on senior night by that margin, it's a big statement."