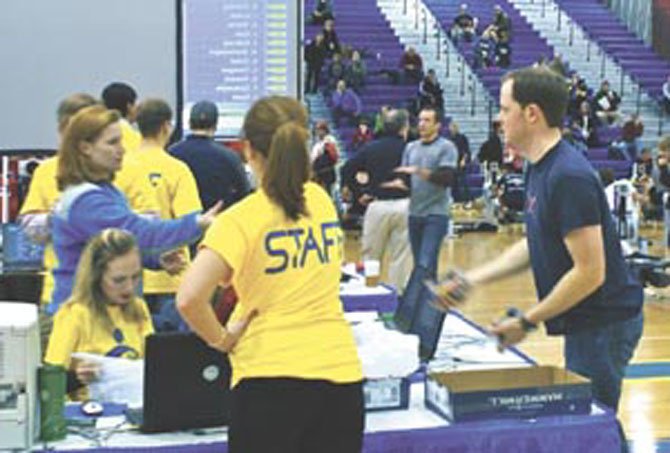 Erg Sprints Looking For Volunteers
With early registration figures indicating this year's MidAtlantic Erg Sprints could see the highest turnout ever in its 27-year history, the organizers of the world's third-largest indoor rowing competition have put out a call for more volunteers to help things run smoothly once the competition gets underway.
"In 2011, we had over 1,400 athletes from over 100 clubs and schools take part in the competition," Jeff Byron, the director of the MidAtlantic Erg Sprints, said in a press release. "In light of the fact that our registration totals are running ahead of where they were at this time last year, our expectation is that we will have as many if not more athletes competing in 2012. As a result, we're putting out a call for additional volunteers who might be willing to lend a hand."
This year's MidAtlantic Erg Sprints will take place on Saturday, Feb. 4 from 8 a.m. to 3 p.m. in the Gerry Bertier Gymnasium at T.C. Williams High School. According to Byron, the Erg Sprints typically rely on the efforts of more than 150 volunteers, who help out in areas ranging from registering athletes to handing out awards. Volunteers generally work in three to four hour shifts, he said.
This year's shifts include: helping with set-up the night before the event on Friday, Feb. 3, from either 4-7 p.m. or 7-10 p.m.; and lending a hand during the event on Saturday, Feb. 4, from either 10 a.m.-1 p.m., 1-4 p.m., or helping with clean-up afterward from 4-6 p.m. Individuals who wish to volunteer can do so at http://ergsprints.com/volunteer/contact.html. For more information on the Erg Sprints, please visit http://ergsprints.com/.
"Volunteers are one of the main reasons the MidAtlantic Erg Sprints has become the third largest indoor rowing event in the world," Byron said. "We couldn't do it without them, and we're looking forward to their help once again this year."
The MidAtlantic Erg Sprints were first held in Alexandria in January 1986. The event is sponsored by the Alexandria Crew Boosters.


SSSAS Wrestling Wins City Tournament
The St. Stephen's & St. Agnes wrestling team won the Alexandria City Tournament, beating Bishop Ireton 45-39, Episcopal 60-24 and T.C. Williams 58-24.
The Saints will host a meet with Annapolis Christian, Landon and St. James at 10:30 a.m. on Saturday, Jan. 21.


Episcopal Boys Improve to 11-1
The Episcopal boys basketball team defeated Bullis 62-57 on Jan. 13 to improve to 11-1 this season. The Maroon will host Flint Hill at 6 p.m. on Thursday, Jan. 19.


TC Boys Snap 4-Game Losing Streak
In a rematch of last season's Patriot District and Northern Region championship games, the T.C. Williams boys basketball team defeated Annandale 64-39 on Jan. 17 at The Garden. The win snapped a four-game losing streak for the Titans. TC improved to 7-6 overall, 4-4 in the district.
The Titans will travel to face West Potomac at 7:45 p.m. on Friday, Jan. 20 and will host national power Montrose Christian at 7:30 p.m. on Saturday, Jan. 21.


TC Girls Beat Annandale
The T.C. Williams girls basketball team defeated Annandale 58-51 on Jan. 17, improving the Titans' record to 10-5, 6-1 in the Patriot District. TC lost to Forest Park 82-55 on Jan. 14.
The Titans will host West Potomac at 7:45 p.m. on Friday, Jan. 20 and Woodson on Jan. 24.


BI Girls Beat O'Connell
The Bishop Ireton girls basketball team beat Bishop O'Connell 59-50 on Jan. 16 for its first Washington Catholic Athletic Conference victory since the 2007-08 season.