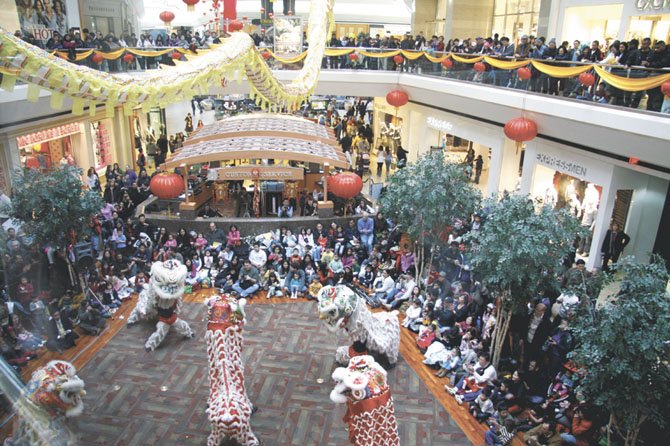 Fairfax — Fair Oaks Mall will host its 9th annual Lunar New Year celebrations on Saturday, Jan. 28 and Sunday, Jan. 29 as it honors the Chinese year 4710, the year of the dragon. Ceremonies, performances and exhibitions will be presented from 1 p.m. to 5 p.m. each day, with most of the events centered in the Fair Oaks Mall Grand Court.
One of the largest Lunar New Year events of its kind, Fair Oaks Mall's 9th annual Lunar New Year celebration is presented by the Washington Hai Hua Community Center. The celebrations will feature traditional Chinese dragon dances; music and dance performances; martial arts demonstrations; children's crafts; and a special lantern festival.
More than 200 performers will participate in this year's Lunar New Year festival, representing such countries and regions as China, Korea, India, Thailand, Vietnam, Mongolia, Malaysia, Indonesia, Philippines, Polynesia and the 50th state of Hawaii.
Both days of the Lunar New Year celebrations at Fair Oaks will feature displays with Chinese knotting, Chinese paper cutting and paper folding; Chinese Calligraphy bookmark writing and Chinese Painting, face painting, and Chinese medicine with Dr. Peter Lee.
Fair Oaks Mall's Lunar New Year is sponsored by Long & Foster Realtors, which will offer its Ask- A-Realtor event in the Fountain Court during both days of the celebrations.
Fair Oaks Mall's Lunar year is presented by the Washington Hai Hua Community Center, which has been dedicated to working as a bridge between new Asian immigrants and American society since 1989.