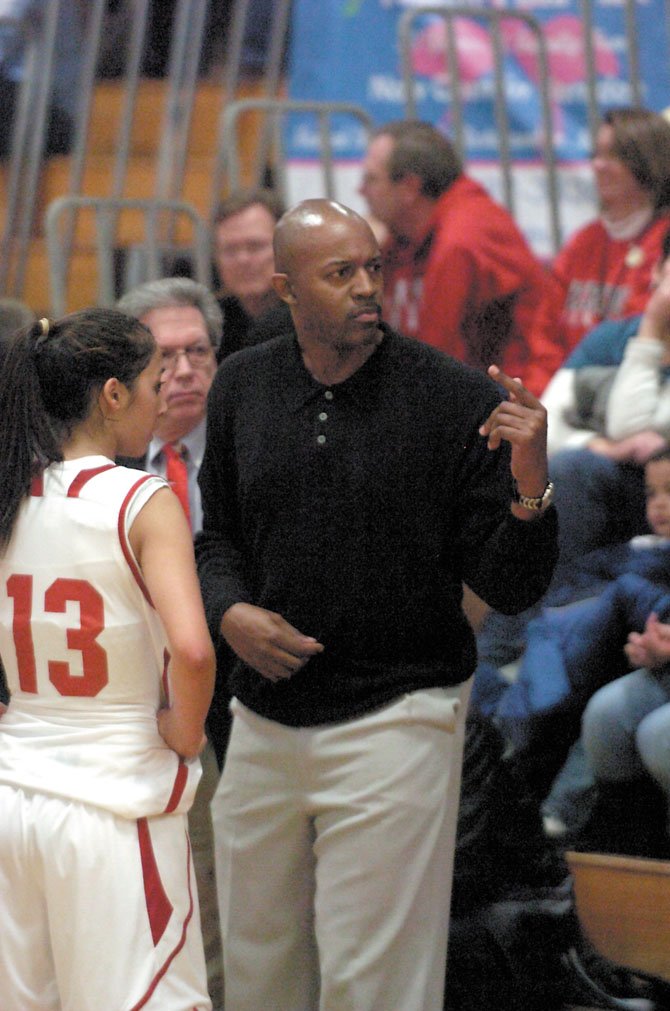 The Herndon High girls' basketball team came up just short in a 49-46 overtime loss at Concorde District opponent Westfield last Friday night.
Westfield, one of the better teams in the Northern Region, improved its record to 11-5 overall and 2-2 in district play. Herndon, meanwhile, slipped to 8-7 and 0-4.
It was a tough defeat for the Hornets, who lost their fourth game in a row (all district contests). But they gave the Bulldogs everything they had in Friday's affair. Trailing 26-17 at halftime, Herndon put the defensive clamps on Westfield in the third quarter when it outscored the home team 10-2 to get within 28-27. The Hornets then scored 13 points to the Bulldogs' 12 in the final quarter to force the overtime. There, Westfield edged Herndon 9-6 to pull off the win.
It was Herndon's second overtime loss in its last three games. The Hornets had also lost an OT heart-breaker, 68-67, to visiting district opponent Centreville on Jan. 10.
Herndon's last victory prior to the recent four-game losing streak came in overtime, 61-57, at Edison High (National District) on Jan. 3.
Herndon was hoping to get back into the win column this week with scheduled district home games versus Robinson on Tuesday, Jan. 24 and Oakton this Friday, Jan. 27. Both opponents are tough with the Rams entering this week 11-4 and the defending district champion Cougars being unbeaten at 16-0.
"We've done well in some areas, and severely underachieved in others," said Herndon High head coach Reggie Barnes, of his team's overall play this season. "We've challenged our ladies to step up and play like we know they're capable of playing."
In Friday's loss to Westfield, Herndon was led in scoring by junior Chloe Owens, who finished with 19 points as did Westfield's Jules Abruzzo. Deborah Headen, a senior, was also in double figures for the Hornets with 11 points and teammate Alexis Brown, a junior, contributed six points. Both Headen and Brown pulled down seven rebounds for Herndon, as did senior Brandi Delgado (4 points).
HERNDON WON its first six games this season, including a 52-36 non-district win at Lake Braddock (Patriot District) on Dec. 13. Owens tallied 21 points in that win over the Bruins as the Hornets improved to 5-0.
They made it 6-0 with a 59-44 non-district home win over Hayfield (National District) on Dec. 16. Owens, Headen and Brianna Moses scored 21, 20, and 11 points, respectively in that win over the Hawks.
Herndon's first loss of the season came in its following game on Dec. 20 when it fell at home to cross-town rival South Lakes (Liberty District), 66-53. Owens led her team with 18 points and 10 rebounds and Headen netted 15 with seven boards. Also for the Hornets, Brown scored seven points and had 10 rebounds. South Lakes, meanwhile, received strong outings from Abigail Rendle (21 points, 9 rebounds), Caitlin Jensen (15 points), and Gabrielle Schultz (13 points, 8 rebounds).
Over the holidays, Herndon defeated Hayfield again but lost to non-Northern Region opponents Millbrook High (Winchester) and William Fleming (Roanoke) before beginning the New Year in good fashion with the overtime win over Edison to improve to 8-3.
Herndon, it its district games, lost decisively just once – 61-39 at Oakton in its district opener on Jan. 6. Since then, the district setbacks have all been close games – the overtime losses to Centreville and Westfield, and a 40-38 defeat at Chantilly on Jan. 13.
"We are looking to get out of our mini-losing streak," said coach Barnes, prior to last Friday's loss to Westfield. "We have gone back to basics and refocused on our defense and free throw shooting."
Barnes said his team's top players have been Owens (14 points per game), Headen (13 points per game), Moses, and senior Jenna Aschenbach.
"Brandi Delgado and Alexis Brown have also played well for us, especially with their great hustle and defense," he said.
The coach said his team has to improve its play later in games in order to gain some wins in the district.
"We're well aware that we need to finish stronger, which would've made our record better," he said. "We've set some goals to help us work towards peaking in time for the district playoffs and as our history has shown we are dangerous once that time comes."