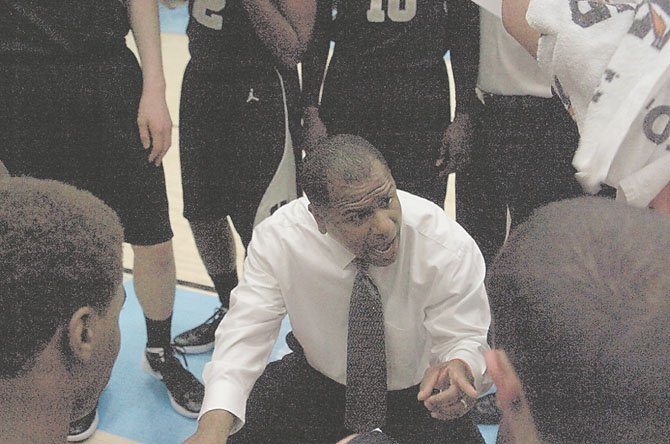 The Westfield High boys' basketball team continued a season in which it has emerged into one of the top teams in the Northern Region by defeating defending Concorde District champion Herndon, 73-62 in overtime, last Friday night, Jan. 20. The road victory improved the Bulldogs' record to 13-3 overall and 4-0 in the district. Herndon, which went as far as the Northern Region semifinals last year, fell to 7-8 and 2-2.
It was the Westfield squad's fifth win in a row and eighth victory in its last nine games. The Bulldogs, who led the Hornets 15-5 after one quarter before a tough second quarter saw the host Herndon team storm back and surge out to a 29-26 halftime advantage, received a balanced scoring attack, led by senior forward Quentin Basil's 17 point effort. Other players in double figures for the Bulldogs were senior forward Kris Perry (15 points), junior guard C.J Hill (12 points, 8 rebounds), senior guard Julius Rosa (12 points), and senior center Zach Elcano (9 points, 9 rebounds). Basil, along with his team-high points, also finished with a game-high 10 rebounds. Westfield dominated in overtime, outscoring Herndon 14-3.
Westfield, which is under head coach Doug Ewell, has enjoyed such a good season as a result of having a dedicated, talented group of mostly experienced varsity players who play a good team brand of ball with selfless play on the court, fundamentally sound execution, and intense, solid play at the defensive end. The Bulldogs have numerous players who can step up offensively on any given game and give opponents fits.
"This year's Bulldogs are a senior-lead team," said Mike Coyle, a Westfield High assistant coach. "They're a great group of young men that understand for us to be successful we have to have a great defensive effort every night. On any night a different player may stand out and typically 10 to 11 guys get quality minutes each game."
Westfield has a go-to big man inside the paint in Elcano, a 6-foot-11 inch front court game-changer who leads the Bulldogs in scoring with close to 13 points per game. (Basil, who is 6-foot-4, is the team's second leading scorer with over nine points per contest). Elcano can positively impact a game both with his scoring prowess and defensive play at the other end of the floor.
Westfield's backcourt is led by Rosa (8.5 points per game) and Mark Gibson, another senior. The duo has provided good leadership and steady defensive pressure on other teams' ball handlers.
Other Westfield players who have made good contributions include Perry, senior guard Quinton Lord, senior forward Charlie Johnson, junior guard C.J. Hill (6.8 points per game), junior forward Chris Mullins, and junior guard Chauncey Beckett.
Elcano, Basil, and Johnson have led the Bulldogs in rebounding this season, and backcourt players Gibson and Beckett have led the squad in assists.
"The team as a whole is what has propelled this year's good start," said Coyle, of the numerous players who have contributed to Westfield's stellar season thus far. "All of these players contribute significantly when they are on the court."
WESTFIELD OPENED up its district season schedule on Jan. 6 with a 53-43 home win over Chantilly. The Chargers, who won the region crown two years ago and reached the district tournament finals last year, are annually among the top teams across the region, so getting a victory over them was a good confidence booster for the Bulldogs.
Westfield, which jumped out to an 18-8 lead following the first quarter against Chantilly, had big games in the win from Basil (17 points) and Elcano (14 points, 7 rebounds). Gibson added eight points. For Chantilly in that game, Brady Caslavka finished with 18 points and Brian Sydnor scored eight points and pulled down 10 rebounds.
In its next district game on Jan. 10, Westfield, playing at home again, defeated Robinson, 58-40, behind big nights from Basil (21 points) and Elcano (14). Rosa contributed seven points. The Bulldogs jumped out in front early with an 18-6 lead.
"We opened Concorde District play against two very tough opponents at home," said Coyle, of the wins over Chantilly and Robinson. "Both opponents have some athletic players that can create problems for any team on defense. Fortunately, our kids came out with a lot of defensive intensity in the first quarter of each game and converted opportunities in transition offense to propel us to leads of 10 points and 12 points. From that point each game was a battle typical of Concorde District play."
Westfield next played at Centreville High on Jan. 13 and played one of its best games of the season in a 64-35 district win. Westfield led 35-10 at halftime and was never threatened thereafter. Top Bulldog scorers in the win were Elcano (15 points), Mullins (11), Hill (9), and Rosa (9).
The Bulldogs followed that game up with their win over Herndon in their first district road contest.
In district games this week, Westfield was scheduled to host Oakton on Tuesday, Jan. 24 and will travel to local rival Chantilly for a game this Friday night.