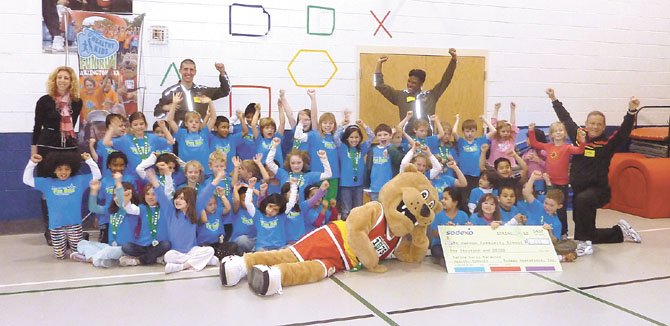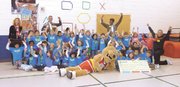 The efforts of 115 Mount Vernon Community School students who braved the torrential rains and cold temperatures last Oct. 29 paid off when MVCS was honored Jan. 19 as one of the top five schools that participated in the 2011 Marine Corps Marathon Healthy Kids Fun Run.
"This was the first year that the school participated in the event," said vice principal Elizabeth Namba. "Our PE department of Tracy Tiernan, Kirstin Dundon and Xionara Hernandez worked with counselor Cassandra Ford and parent Summer Jones to coordinate the students, who had a blast in spite of the weather that day."
As part of the Healthy School Award, MCM partner Sodexo presented a check for $1,000 to the school's PE program and provided healthy snacks to every student.
MCM race director Rick Nealis was joined by mascot Miles the Bulldog during two separate assemblies, held so that all 711 students could participate, in demonstrating ways for students to keep fit.
Additionally, the National Children's Museum's "Museum Without Walls" team presented programming focusing on physical fitness and activity.
"This is very exciting and we will definitely do it again next year," Namba said. "We want to do as much as we can to keep up healthy initiatives for kids."
The 2012 Healthy Kids Fun Run, a one-mile run for fun for students ages 5 to 12, will open for online registration at noon April 4 at www.marinemarathon.com. Parents can register kids for the event that will be held on Saturday, Oct. 27. Schools or organizations interested in registering groups of students can contact MCM communications coordinator Amy Beaulieu at amy.beaulieu@usmc.mil or 703-784-2357.