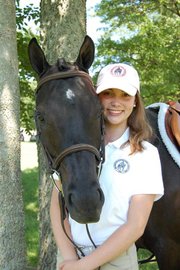 The Washington International Horse Show (WIHS), a national equestrian event based in Washington, D.C. since 1958, has announced Hanna Powers of Potomac Falls, Va., as Youth Ambassador of the 2012 show.
Powers, 15, is a sophomore at The Madeira School in McLean, and competes on the varsity Interscholastic Equestrian Association (IEA) team. She has attended WIHS for many years with her friends and family. Powers brings a wealth of knowledge of equestrian sport to her new role.
As the 2012 WIHS Youth Ambassador, Powers will oversee the WIHS Junior Committee and work with show management to reach out to the local youth in the community. She will help give WIHS a youth perspective as the show develops new youth-related programs from young rider events to Kids' Day. The Junior Committee consists of students from public, charter and private schools in Maryland, Virginia and Washington, D.C.
Washington International Horse Show received many applications from very qualified students in the D.C. Metro area and beyond. Powers will serve as the fourth WIHS Youth Ambassador following Jamal Brown, Anna Rossi and Shannon Miglarese.
The 54th annual Washington International Horse Show will be held Oct. 23-28, 2012 at Verizon Center in Washington, D.C.