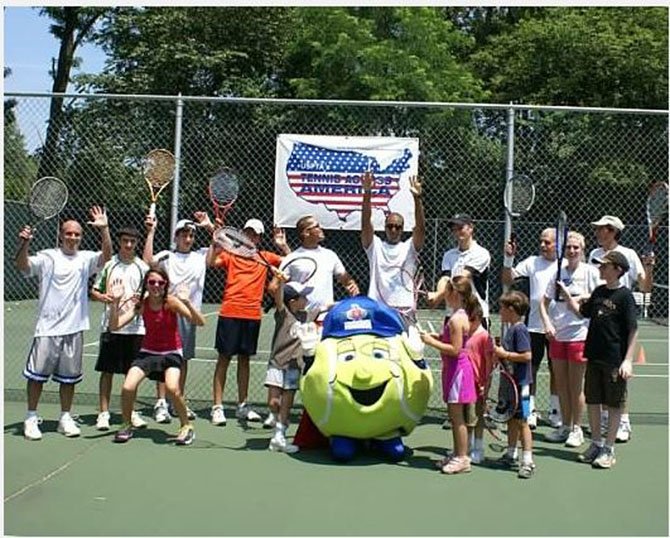 Children, teenagers, and adults alike can experience the instruction of certified professionals in McLean and Great Falls tennis facilities. When teachers are not supervising and covering backhands, volleys, serves, overheads, and forehands, players learn the dynamics of team competition and match games.
In the McLean and Great Falls area, there is a range of tennis opportunities for players of all ages and skill levels.
In tennis clubs, like Tuckahoe and McLean Swim and Tennis, clinics and camps tailor to each student's levels of experience. For even the youngest of players, country clubs and tennis camps have developed programs that delve into hand-eye coordination, balance and movement, such as the Munchkins mini-camp at Tuckahoe Recreation Club.
Nick Baker, a pool manager at McLean Swim and Tennis, remembers when he played for the Summer Junior Tennis Team. Though he may not play the same level now, he still carries with him the skills he learned.


AT MCLEAN SWIM AND TENNIS, the Junior Tennis Team nurtures a competitive spirit, as the team plays weekly against other neighboring tennis teams. Baker recalls their most common and recognized opponent: Tuckahoe.
Tuckahoe, and other tennis clubs, recruit certified teaching professionals to lead and supervise each tennis workshop and clinic. Baker notes the collective term that these teachers go by is "tennis pro." Mani Barajas-Alexander is the director of tennis at Tuckahoe and is a part of the United States Professional Tennis Association.
Nebryu Retta, the assistant director of Tennis and the assistant coach for the Langley High School tennis teams, is a part of the United States Professional Tennis Association and the Fairfax Racquet Club Multicultural and Diversity Committee.
"I have been a Director at Tuckahoe since its first years alongside Mani B-Alexander. Together, we have been responsible with the formation, development and growth of tennis," Retta said.
Retta focuses on developing player's specific goals and needs with strokes, drills, and lessons tailored to each individual.
"I like to gear my lessons to the specific goals and needs of the player," Retta said.
The instructors, much like Retta, typically endure a 60-80 work week on and off the court.
"Tuckahoe allows me to share my passion for the sport of tennis with those looking to learn the game or sharpen their skills," Retta said.
Griff Lamkin is an instructor at McLean Racquet and Health. Once ranked number one in Virginia, Lamkin grew up on the court, and has continued to share his passion.
A graduate of University of South Florida, Lamkin began teaching junior and adult camps in 1973.
The Army Navy Country Club, All-America Sports Tennis Camps, and Camp Racquet were only a handful of the teaching endeavors he took up.
Following college, Lamkin was forced to make a decision between touring and teaching. In 1977, Lamkin was drawn to Racquet and Health due to the "friendly atmosphere" and the owner, Kevin Tithe.
"The tennis programs here put on these membership assessments that show where each person needs to improve or how far they've come," Lamkin said. "It gives the club a very individualized feel."
While it offers classes both to young and older children, the styles of teaching differ significantly. For the younger tennis aspirers, teachers apply the Quickstart Program as an introductory device.
Of course, camps or clinics are not the only source for playing tennis. Swim and tennis clubs allow members to reserve courts, and play on their own time and money.


CHESTERBROOK SWIM CLUB, for instance, allows any tennis enthusiast to sign up for a court for the cost of five dollars.
Whether you're a more experienced tennis enthusiast, or just stepping on the court, McLean and Great Falls offer a slew of options and programs.