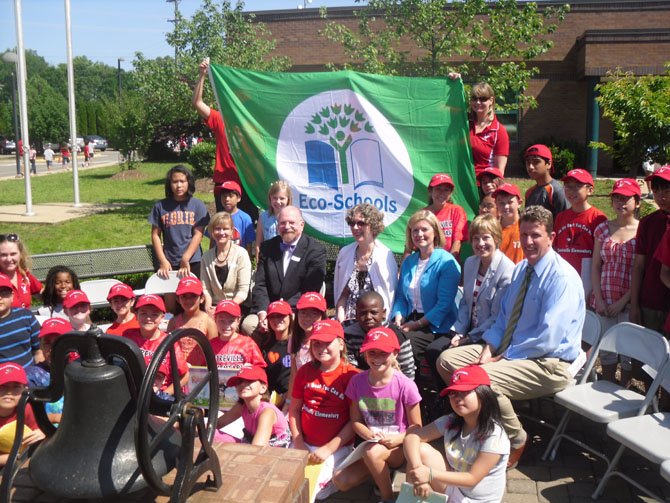 Centreville — A ceremony celebrating Centreville Elementary School's successful implementation of the National Wildlife Federation's Eco-Schools USA program and its achievements as the second school in the state and only the fifth in the country to achieve "Green Flag" status was held June 8. Kevin Coyle, NWF's vice president of education programs, visited the school to officially commemorate the achievement and raise the Green Flag, with 1,000 guests and students in attendance.
CES first launched an effort to make its school grounds, energy practices and curricula more sustainable with an Environmental Review during the 2009-2012 school year. After energy and waste audits and the institution of an official Eco-Code to govern the school's environmental values, the school now has an outdoor classroom designated as a Schoolyard Habitat; a sensory garden for special needs students; nesting boxes used to track and research Eastern bluebirds, and in-class stations for observing the metamorphosis of Monarch butterflies. Through its efforts, CES has increased its cafeteria recycling four times.
The school also received the NoVA Outside Green Schools Award in March for its broad range of environmental efforts and significant student involvement. The school's wildlife habitat is also recognized for its diversity of animal species by the Audubon at Home Program and is certified as a Monarch Waystation. On June 8, the school also received the Audubon Naturalist Society's Green Citizen Award.
CES is one of about 45 Fairfax County Public Schools registered in the Eco Schools USA program. About 90 schools are involved in some type of environmental effort. The school district initiated a program called Get2Green in 2010 to provide resources to interested preK-12 schools including professional development for staff working to establish student eco teams and to increase outdoor learning opportunities for students. The school district is formally partnered with the National Wildlife Federation to promote this work.