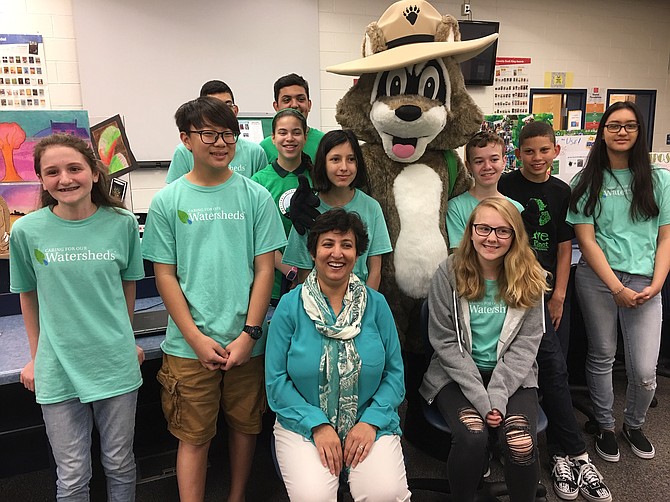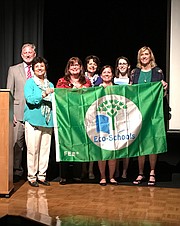 With all the fanfare befitting such an achievement, Lanier Middle School was recently honored as one of only two schools in the country to earn permanent Green Flag status for sustained excellence in student-driven environmental action.

The April 24 ceremony at the school also celebrated the 10th anniversary Celebration of the FCPS Get2Green program and the National Wildlife Federation's Eco-Schools USA program. But Lanier didn't reach this pinnacle overnight; all its eco-friendly projects and improvements were a schoolwide effort, undertaken over several years.
In 2006, Lanier became the first middle school in Fairfax County to require all seventh-graders to participate in an environmental-stewardship project via all their science classes. It quickly became the model for other FCPS middle schools. Then in 2009, Lanier registered for the National Wildlife Federation's (NWF) Eco-Schools USA program, which provides a framework to help educators integrate sustainable principles across the curriculum.
LANIER established an eco-team of students, staff, parents and community members to focus on environmental issues throughout the school. The team encouraged energy, water and paper conservation, plus recycling and sustainable, school-grounds enhancements.

The Lanier community converted the school's courtyard into an Outdoor Living Classroom, conducted energy consumption and school-grounds audits and implemented numerous environmental projects. Students created bio-retention cells and rain gardens to stop erosion and runoff, installed rain barrels to conserve water, installed bottle-filling water fountains to stop the use of plastic bottles, and changed their daily, life habits to better the environment.
And in 2010, Lanier became the first school in Virginia and the third school nationally to earn the Green Flag award from Eco-Schools USA. When it won four of these flags – most recently, for the last school year and for this one – it earned permanent Green Flag status.
"It's a good feeling to know these kids have learned and done something important and will take this memory away from Lanier," said science teacher and Eco Team sponsor Faiza Alam. "The skills of communication, collaboration, and creative and critical thinking are something they'll use throughout their lives. They've also become ethical and global citizens and goal-oriented, resilient individuals."
She was also pleased that Lanier alumnus Laura Hickey – who started the Eco-Schools USA program at Lanier in 2009 – later became an NWF director and returned for the April 24 ceremony. "It comes full circle," said Alam.
Fairfax City School Board member Mitch Sutterfield was delighted, as well. "Everybody likes to win, so it's the thrill of recognition that we have a great bunch of kids," he said. "And as a teacher for 31 years, when I see the students here talking about, for example, the tradeoffs of one course of action vs. another – and how you have to compromise – I feel incredibly proud."
Also at the ceremony was Del. David Bulova (D-37). "I couldn't be more proud of Lanier for this accomplishment," he said. "If we're going to protect our environment and water resources, it's up to our youngest to be leaders and stewards for the future. I also love their creativity and enthusiasm. And the fact that students were able to explain to me what a bio-retention facility does is pretty impressive."
NWF Senior Director Kim Martinez called the school's newest honor a "prestigious national designation," adding that, "Without the students, this wouldn't have happened."
Congratulating them, as well, was U.S. Rep. Gerry Connolly (D-11). "You're all about learning, intellectual pursuits and science," he said. "And yet we live in an era where science and climate change are denied by many. But you and your children will live with the effects of climate change – including unprecedented flooding in coastal areas due to the melting ice caps and the dramatic rise in sea levels. So what you're doing – making this school a center of excellence and commitment to the universe – is so important."
Connolly further told the students they'll bring that commitment, knowledge and awareness with them, wherever they go. "Even if our federal government won't fight to reduce greenhouse gases and our carbon emissions – if every county would reduce its carbon footprint – collectively, we all would be able to," he said. "This is a great day to celebrate you, your teachers and mentors. And I promise you, I'm going to keep fighting for you and our planet at the federal level."
Then, in a video, Lanier grads told how much it meant to them to learn about the environment and its protection by doing hands-on projects there. Discussing some of their Eco Club projects, they said they planted trees, did gardening, composting and recycling and learned that their own actions "can make a difference."
A Fairfax High junior said being involved this way at Lanier "taught us how to work for something we're passionate about, and not just for a grade." Another Fairfax student said he learned about caring for the watersheds, plus communication and critical-thinking skills, but especially collaborating with others on his team. And, added another, "I felt like I was actively contributing to our society and helping save our world."
THEN, PARENT Hala Shafik stepped to the podium and spoke about her children's experiences in Lanier's Eco Club. "My son Luke helped install rain barrels after the club determined there was too much water runoff here," said Shafik. "And my daughter Mariam helped reduce water-bottle usage here. It was an amazing, invaluable experience and made me wish I was a student at Lanier, too. You guys aren't just the future, you are the present."
City Schools Superintendent Phyllis Pajardo said she was impressed with every Lanier student's and teacher's commitment to the environment. "Students here are knowledgeable, passionate, committed and engaged in addressing real, environmental issues in our city and country," she said.
She also relayed a message from former City Schools Superintendent Ann Monday, who said, "Lanier is a model of environmental stewardship and, for this, you should feel great pride." Pajardo then told the school, "Your vision has been sustained by focused, teacher and administrative leadership," and she congratulated the entire Lanier community for its efforts to "understand, teach about, love and conserve" the environment.
Alam then noted that the push started with then-Principal Scott Poole in 2009 and was continued and sustained by past-Principal Erin Lenart and Tammara Hanna. And FCPS Executive Principal for Region 5, Eric McCann, acknowledged the many people who've supported this program at Lanier, over the years. Praising Alam, he said, "It doesn't happen without someone like her who's actively engaged and passionate and willing to do the hard work."
"This school has been a lighthouse in the county for 10 years – you showed the way," continued McCann. "You're a model – not just for FCPS, this state and the nation – but also for the world."
Lanier alumnus Hickey told the students a permanent Green Flag "indicates the school has adopted sustainability into its fabric and culture. Each one of you deserves the accolades and recognition. But you must continue this work and continue to be a model for other schools."