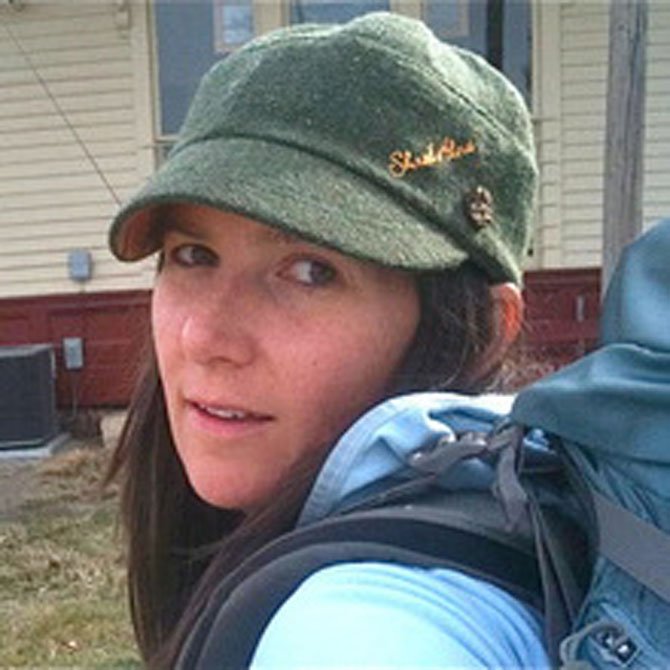 Alexandria — On July 4, Alexandria resident Jennifer Cooper, 38, will celebrate the three-year anniversary of the start of her walk across the United States. To celebrate, she will fly from Alexandria to Wichita, Kansas, where she last left, to continue her trek to Los Angeles.
"I started walking three years ago, July 4, 2009," Cooper said. She said she started at the Lincoln Memorial with a 54-pound back pack strapped to her and with a plan to walk to Los Angeles in one trip.
The first leg of her walk ended in Pittsburgh due to injury, according to Cooper.
"The plan was initially was to do the whole thing in one go. But when I reached Pittsburgh, I realized I had a stress fracture. I had no idea it was broken, I just knew it hurt a lot. Finally after an x-ray I realized it was broken."
Cooper said as a result, the walk across the United States will ideally be completed over three years and four stages.
"The first year I walked from Washington D.C. to Chicago," Cooper said. "Then Chicago to Kansas City. Then Kansas City to Wichita. Now it's time to give it a rest. I want to finish this part of my journey and I want to write my book."
Cooper said she will need financial support to write a book.
She said she has been in Alexandria since last fall and is now preparing for what she hopes to be the last stage of her walk.
The inspiration behind Cooper's walk is an accumulation of causes and she said they have evolved over the three years.
"It was an accumulation of a lot of different things in my life," Cooper said. "It's great to get out there and see things and see the country. I am a journalist so I should go out and see how the economy is affecting people. I sensed it was a time in history that it would be worth for me to take the time to go out and talk to people."
Cooper said she has already started working on the book about her journey and one of the causes of her memoir will be to eliminate the stereotype behind homelessness.
"Initially I wanted to walk to raise awareness of homelessness and poverty but then I realized homelessness is just a function of poverty. So I'm trying to push less attention on that," Cooper said.
She said at every stage and every place, the plan has changed.
"It is what it is and I'm kind of along for the ride," Cooper said. "My route veers off course frequently. When I reached Chicago the first year, I was comfortable saying that was reaching the end. But every time I try to stop, the road calls me back."
She said there is no planned path to the West Coast.
"I walked from Washington D.C. to Pittsburgh to Cleveland to Detroit to Chicago to St Louis over to Kansas City to Topeka and ending in Wichita," she said. "It's not a straight line."
She said she seeks shelter from camping, hotels and sometimes even with people she meets along the way.
"I prefer to stay with people I meet," Cooper said, who is undergoing this walk alone. Still, she's had some support from her parents.
Her dad, Roger Cooper, said he did join Jennifer the first three miles of her walk and has helped her out fiscally after Jennifer was laid off from her remote job, which happened while on her adventure.
"We've been supportive, both monetarily and by word, as a parent should be," Roger Cooper said, although he added that Jennifer has mostly raised the money she needed by herself.
"I went to D.C. with my wife, Jen's mom, Ethel, and some of Jen's siblings, to see her off," he said. "I surprised her by walking three miles with her as she exited D.C."
He added that during her first year when Jennifer was suffering from her stress fracture, he convinced Jennifer to let him drive to Pittsburgh, and bring her home to see a doctor.
"After some time off her feet, so that the stress fracture in her leg could heal, I drove her back to Pittsburgh," Roger Cooper said.
So, Jennifer has walked her entire course.
Her dad said at first he thought Jennifer was crazy, but is proud of her desire to explore the country and help its people.
He added that he regularly keeps in touch with Jennifer as well.
"Jen calls every night, and tells us about her trials and tribulations of that day's trek," he said. "The next day I post her previous day's path on a large American Auto Association map at the local library."
Jennifer Cooper said she's thought about having a support car but has ultimately decided against it.
"This isn't a vacation," Cooper said. "While it's fun, it's also hard work."
The work will continue July 4, where she will re-start in Wichita, Kansas, where she was last. From there, she will continue to Los Angeles.
She said she estimates it will take her about two months to get to LA.
"But I might stop in certain places and visit Indian Reservations," she said. "I don't want to rush things and I know Native Americans experience some of the highest levels of poverty in this country."
Once Cooper reaches Los Angeles, she said she will "most definitely be flying home."
Meanwhile, Jennifer's dad said he does not worry too much about his daughter's wellbeing.
"I really don't have any concerns, except for those caused by weather," he said. "I believe that we Americans are a pretty [darn] good lot."
To follow Cooper's walk, follow her at any of the following sites: