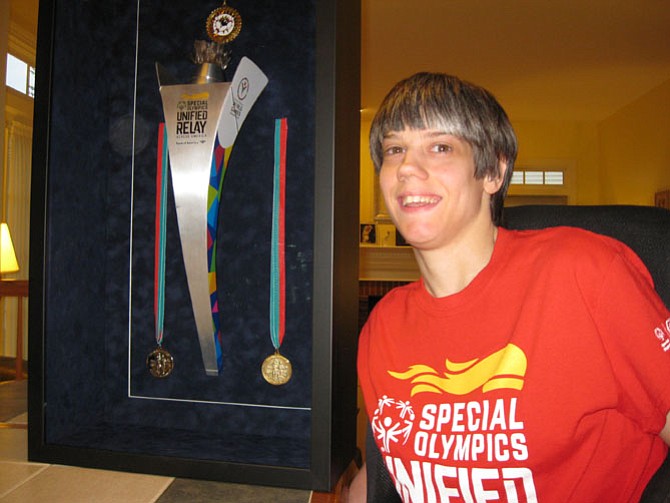 Alexis Guillett, 33, of Compton Village in Centreville had the thrill of her life when she got to participate in the Special Olympics Torch Run on May 28 in Crystal City. The torch was lit in Greece and carried from city to city where it will end up in Los Angeles for the Special Olympics World Games starting on July 25. There, Michelle Obama will be kicking off the ceremonies featuring 7,000 athletes from 26 different sports, including swimming, track and field and bowling.
Alexis, the daughter of Warren and Sharron Guillett, was part of the central track across the U.S.; there were three different tracks starting in the eastern portion of the U.S. Their segment was half a mile long Jefferson Davis Highway near 27th Street in Crystal City. The night before the Torch Run, her family stayed at a hotel in Crystal City; they wanted to be sure to find a red circle on a lamp post where they were supposed to meet up with the torch.
"There was a police escort and truck with cameras and water," said Alexis Guillett of the actual Torch Run. "They call it kissing the torch and the flame has never been extinguished. The same flame is passed from torch to torch. It is kept going until it reaches its home in Los Angeles."
"What was so thrilling was the response of the people as we walked by," said mom Sharron Guillett. "At one point we went by the Metro bus station and the drivers all came out and cheered. It was more than I was expecting. It was exciting."
A man named Joseph Carlone has been accompanying the torch from the time it came to the U.S. He helped Alexis Guillett hold it steady during her turn so that it would be safe. "It's heavy and hot," she said. "They attached the apparatus to my foot plate (on her wheelchair) and put the torch inside the holder."
"My friend Joseph, he was next to me the whole time. He never let go. He kept asking me if I was OK, or if I needed to stop. But I wanted to just keep going," said Alexis Guillett. "I wanted to keep it going as much as I could. It was a once in a lifetime opportunity."
"I was really proud because she earned the money herself," said Sharron Guillett. " I think it takes courage to do something that you haven't done before with people you don't know that involves rolling down a busy highway carrying flames."
After an exciting day in 95 degree weather, Alexis Guillett and her family went off to dinner to celebrate at Joe's Crab Shack. It was her mom and dad and the police officers on motorcycles who were blocking off the intersections.
To secure her spot on the Torch Run, Alexis Guillett had to raise $1,000. She actually raised $1,200 by calling a bunch of her friends. "I called my sister Amanda in Florida and her group from work raised money for me," she said. "They created a website to donate and half of her money came from Florida State University where Amanda works."
Since she was age 13, Alexis Guillett has been participating in bowling. She started by bowling on Mondays after school with her mom and sister. Her friend and coach Doris Crawford helped her get started with Special Olympics bowling three years ago with Area 26 from Fairfax County, which meets every Sunday in Annandale Lanes. Teams of four people bowl in three games once a week. They compete against other bowlers from different districts throughout the region. Alexis Guillett's highest bowling score ever is 155.
"It's a mix of people with different abilities," said Sharron Guillett of Alexis's bowling team ("The Four Gals") consisting of friends Shannon, Kelly, and Jennifer. "They're so friendly and supportive. When one person gets a strike, everyone's cheering. Even though it's competitive, they all enjoy each other and want each other to do well."
She added: "It's an opportunity for them to socialize because most of them don't have the same opportunities to get out in the community. This is a chance to get out and have some fun with people like themselves."
An avid sports enthusiast, Alexis Guillett used to play Challenger Baseball and Therapeutic Rec Traveling Basketball. These days, she mainly watches her favorite teams, the Detroit Redwings in hockey; the Baltimore Orioles and the Washington Nationals. She also enjoys watching tennis and golf.
Alexis Guillett graduated from Centreville Elementary, Falls Church High School and Davis Vocational School.