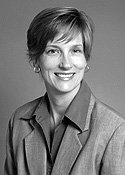 At its organizational meeting on July 2, the Alexandria School Board voted to re-elect Sheryl Gorsuch as chairman and Helen Morris as vice chairman for the remainder of 2012. The current board will serve through Dec. 31, after which members elected by City of Alexandria voters on Nov. 6 will take office.
In addition to re-electing Gorsuch and Morris, the board approved meeting dates for the 2012-13 school year, approved the Jefferson-Houston School's construction management contract with the Turner Construction Company and revised Superintendent Morton Sherman's contract to reflect changes required by the state for contributions to the Virginia Retirement System, but made no market rate adjustment.
Morris was selected as the board's delegate to the Virginia School Boards Association, and Gorsuch was elected as the alternate.