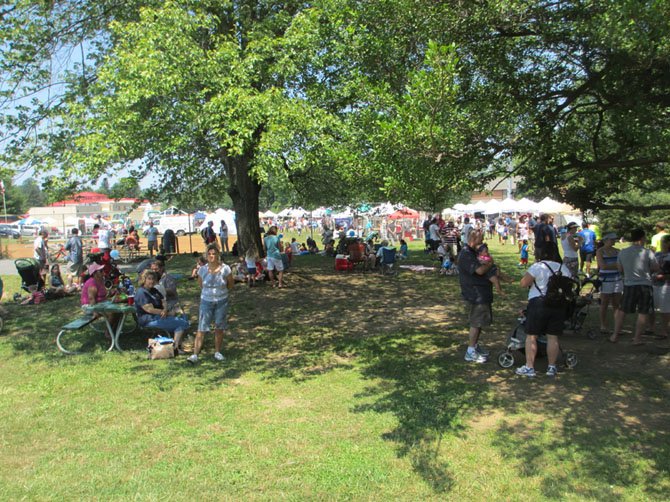 Vienna celebrated the 4th of July in style … old-style, that is. The Town, through its Department of Parks and Recreation, sponsored the annual Independence Day Festival on Caffi Field, in the community center, in front of the community center, around the community center and along Cherry Street.
Eight-piece classic rock band Ron Moody and the Centaurs kept the mood upbeat even during the day's 98-degree heat, opening their performance at 12:15 p.m., shortly after the Vienna Police Department Honor Guard presented the colors. The Vienna Community Band played from 11 a.m. to noon.
The celebration climaxed with a spectacular fireworks display at Southside Park where thousands congregated. Live music performed by Vienna's popular classic rock band, Fat Chance, preceded the fireworks.
Independence Day brings out the red, white and blue. Children, particularly, strutted the nation's colors. Along Maple Avenue, American Legion Post 180 of Vienna had placed American flags throughout the Town. Weichert Realtors building was festooned with red, white and blue bunting.
While Memorial Day and Veterans' Day have solemn implications, Independence Day is all celebration.
And Vienna looked much the same way small towns across America probably looked.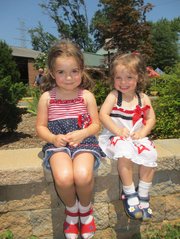 For the young children, the highlight of the festival was the amusement "rides," from rockclimbing and tunnel to bounce house and giant slide. The Centaurs' "Mustang Sally" had little ones moving to the music and adults swaying. Louis the Magician performed at 1 p.m. and 2:15 p.m.
Donations from the annual chili cook-off benefited the Vienna Volunteer Fire Department. As is tradition, Vienna American Legion Post 180 hosted a beer tent and sold pizza and hot dogs. An assortment of miscellaneous food vendors offered a variety of treats from ice cream to crabcakes.
Vendors featured jewelry, clothing, gift items and services. There was a smaller number of classic autos this year, disappointing some of the festival-goers.
Families – and pets – found respite in the shade, nibbling on snack food and drinking plenty of water. The heat didn't deter many from strolling and listening to the music, though.
"We come every year," said Leonard Beckford of McLean, pulling his two festively-dressed children in a wagon. "It's a community event."