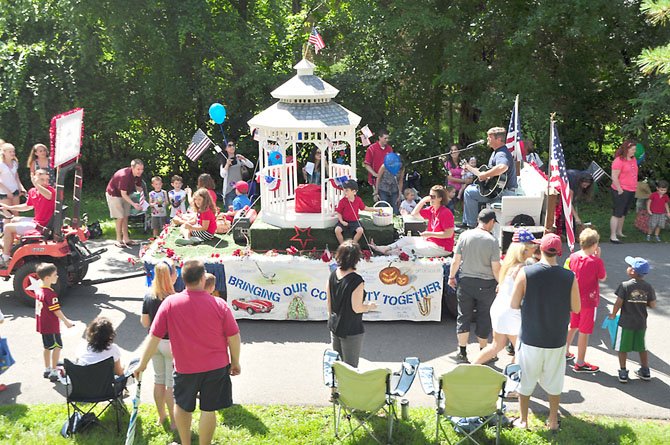 A list of parades, fireworks and family-friendly events taking place this Friday, July 4.
Great Falls Fourth of July Celebration. 9 a.m.-1 p.m. Great Falls Village Centre, 776 Walker Road, Great Falls. Walk/run, parades, festivities, fun and food. Fireworks at Turner Farm Park on Saturday, July 6. Visit www.celebrategreatfalls.org for more.
Vienna 4th of July Festival and Fireworks Show. 11 a.m.-9 p.m. Live musical entertainment, arts and crafts for kids, antique and classic car show and fireworks. Visit www.viennava.gov for more.
Enter the Haggis All-America BBQ Dinner Add-On. 6 p.m. - 9 p.m. Jammin Java, 227 Maple Ave. East, Vienna. Toronto rock band plays hits and music from its latest release, The Modest Revolution. Tickets $20. 703-255-1566.
McLean 4th of July Fireworks Celebration. 8 p.m. Langley High School Stadium, 6520 Georgetown Pike, McLean. Enjoy food and music and receive a flag from the McLean American Legion. Shuttle busses will be available at St. John's Episcopal Church and the McLean Community Center. Free. 703-790-0123.
Mount Vernon's An American Celebration. 8 a.m.-5 p.m. George Washington's Mount Vernon, 3200 Mount Vernon Memorial Highway, Mount Vernon. Fireworks in patriotic colors fired over the Potomac River. The event also includes an inspirational naturalization ceremony for 100 new citizens, military re-enactments, a special wreath-laying ceremony, free birthday cake for all and a visit from the "first" first couple, "General and Mrs. Washington." Visit www.mountvernon.org for more.
Herndon 4th of July Celebration. 6:30 p.m. Bready Park at the Herndon Community Center, 814 Ferndale Ave., Herndon. A family-fun event featuring games, arts and craft activities, bingo, food face painting, balloon artists, and fireworks. Visit www.herndon-va.gov for more.
Firecracker 5K. 8 a.m. – noon. Reston Town Center, 11911 Democracy Drive (Potomac River Running Store), Reston. Kick off your 4th of July with a 5k bang. This is a wonderful opportunity to give thanks and show your support to our local military members and their families. Experience live music, face painting, waving flags and free massages. Come out and root for your favorite military branch in the "Battle of the Branches" competition. http://www.prraces.com/firecracker/
Lake Fairfax Fireworks Spectacular. 9:15 p.m. Lake Fairfax, 1400 Lake Fairfax Dr., Reston. Park grounds open at 7 a.m. but some park attractions and services open later. There is a puppet show from 6 p.m. - 8 p.m. near the carousel. Free. 703-471-5415.
Fairfax's Independence Day Celebration. 10 a.m.-10:30 p.m. in the Downtown Fairfax Historic District. Independence day parade, historical tours, games, entertainment and fireworks. Visit www.fairfaxva.gov/about-us/special-events/independence-day-celebration for more.
4th of July at Paradise Springs. 11 a.m. - 7 p.m. Paradise Springs Winery, 13219 Yates Ford Road, Clifton. Navi Singh performs at 2 p.m.
Independence Day at Gunston Hall. 9:30 a.m. - 5 p.m. Gunston Hall, 10709 Gunston Road, Mason Neck. Celebrate Independence Day at Gunston hall. Converse with Colonel Mason, take a mansion tour, enjoy the grounds or bring a picnic lunch. Free. 703-550-9220.