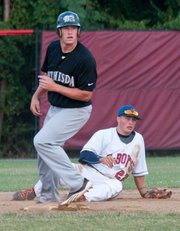 Facing a 1-1 count in the top of the ninth inning, Bethesda Big Train center fielder Hunter Renfroe launched a majestic blast that sailed well past the 325-foot sign on the left-field fence at Blair High School in Silver Spring. The mammoth shot went foul, however, and Renfroe later popped out to shortstop on a ball hit so high he was halfway to second base when it was caught.
"It was inside," Renfroe said of the pitch he cranked out of the stadium. "I just got around a little bit and pulled it too much."
Renfroe's bomb resulted in little more than a long strike during a 9-4 victory against the Silver Spring-Takoma T-Bolts on July 9. Other opponents haven't been so lucky.
Despite a 0-for-3 evening, Renfroe, a rising junior at Mississippi State University, leads the Cal Ripken Collegiate Baseball League in home runs (12) and RBIs (38), and is fourth in batting average (.391). His performance at the plate has helped elevate the three-time defending league champion Big Train from a 3-9 start to a third-place tie in the standings.
"Hunter's done a great job," Bethesda manager Sal Colangelo said. "He's our leader on and off the field. He comes in and he works hard. When he's on the field, he's working, he's getting his pitch, he's hitting his pitch, he's driving his pitch."
Renfroe, who catches, plays in the outfield and pitches, is in his second season with the Big Train. He batted .305 with eight home runs and 30 RBIs in 2011. While quality numbers — his eight home runs were a Big Train record at the time — Renfroe has already turned in a superior season by the 2012 league all-star break. He received league Player of the Week honors for his performance from June 25 to July 1, when he totaled five home runs, including consecutive contests with two homers on June 28 and 29.
"He's by far the best player I've ever coached."

— Bethesda Big Train manager Sal Colangelo about Hunter Renfroe
Renfroe was a 31st-round draft pick of the Boston Red Sox coming out of high school in 2010. He batted .252 with four home runs and 25 RBIs during his sophomore year at Mississippi State and, according to Colangelo, the 6-foot-3, 210-pound Renfroe can throw 98 mph on the mound. Colangelo, who is in his 14th season with the Big Train and eighth as manager, said Renfroe is a five-tool player with a good attitude who will likely be a first-round MLB draft pick next season.
"He's by far," Colangelo said, "the best player I've ever coached."
Renfroe is from the small town of Crystal Springs, Miss., and attended high school at Copiah Academy in Gallman, Miss. For the past two summers, he's lived with a host family in Olney, Md., while playing for the Big Train. Renfroe was selected to the CRCBL all-star game for the second consecutive season and will play for the National Team, led by Colangelo. The game will be played at 7:30 p.m. on Wednesday, July 11 at Shirley Povich Field in Bethesda.
In the second half of the season, Renfroe will likely play a major role in whether the Big Train will have a chance to win a fourth consecutive league title. After Monday's win, Bethesda was 16-11, tied for third place with the Vienna River Dogs and three games behind the first-place Baltimore Redbirds. Along with helping the team, Renfroe will also have a chance to win the league triple crown — finishing first in batting average, home runs and RBIs — something the 20-year-old slugger said hasn't crossed his mind.
"That sounds pretty good," he said. "That would be great. I haven't really thought about it, but, yeah, that sounds really good."