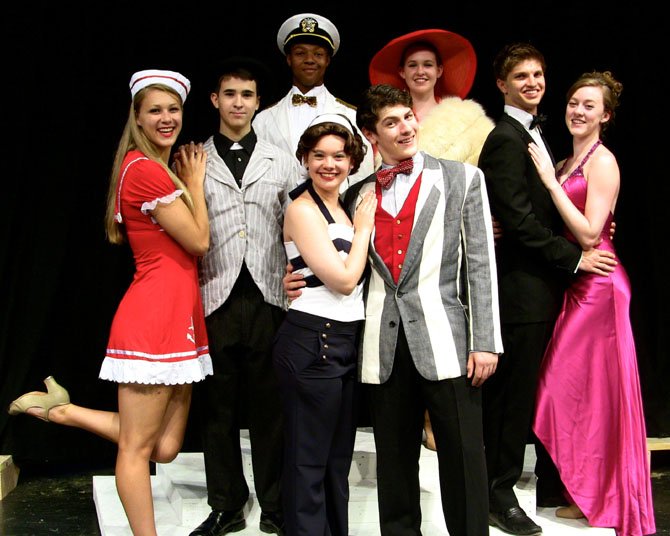 When Lori Knickerbocker and Yvonne Henry saw the Broadway revival of the musical, "Anything Goes," they realized it would be perfect for Westfield Summer Stage. And now, Knickerbocker's directing and Henry's choreographing this show for local audiences.
"There's something for everyone," said Knickerbocker. "There are different types of dancing and a funny script, and it's family-friendly and appeals to all ages. People will leave the theater singing and dancing to the tunes because they're so happy."
This Cole Porter musical comedy marks 12 years of Westfield Summer Stage productions and features a cast and crew of about 100. There are adult actors, plus students from 15 different schools, including Centreville, Chantilly and Westfield high schools; St. Timothy Catholic School and Rocky Run, Stone and Liberty middle schools.
Geared for teen actors, technicians and musicians, Westfield Summer Stage is a five-week, theater-arts, summer workshop culminating in a musical show. This one is challenging, said Knickerbocker, because "it's such a big spectacle with so many song-and-dance numbers, about 200 costumes and a giant set. And for the first time ever, we're doing it for two weeks, not just one."
The action takes place on a two-story cruise ship built by the tech crew. It has railings, gangplanks, a jail, staterooms and decks. Said Knickerbocker: "It's massive and will be awesome."
Rachel Shirley, a 2012 Westfield grad, plays Hope Harcourt, a wealthy debutante in the mid-1930s. She's sailing from the U.S., with her mother and fiance, to get married in England. The fiance is an English lord, and Hope's marrying him to please her mother, but she really loves Billy Crocker, played by Colby Dezelick.
"She's torn between her heart and her head," said Shirley. "She's been raised to be a lady and is friendly and polite, but also innocent and a little sheltered. I like her songs and her character because she's a classic heroine, torn between doing what's right and what her heart tells her."
Her favorite song is "It's De-Lovely," which she and Dezelick sing and dance to together. "It's a cute song with a jazzy feel," she said. Calling it a fun show, Shirley said the audience will like its "goofiness, jokes and one-liners. And a lot of the characters are stereotyped and overly dramatic."
Also a 2012 Westfield grad, Dezelick says Crocker's a N.Y. stockbroker who works for Elijah J. Whitney, one of the cruise-ship passengers. Crocker goes to the ship to give Whitney his passport and papers. "There, he sees Hope, whom he'd met three months before and spent a wonderful night with — but then finds out she's engaged."
So he stows away to be near her and has to wear several, different disguises so he won't get caught. Also on board is Moonface Martin, Public Enemy No. 13, who befriends and helps Crocker.
"Billy's trying to find opportunities to meet Hope, but Moonface gave him Public Enemy No. 1's ticket and passport," said Dezelick. "So when he's discovered on the ship, they believe he's Public Enemy No. 1. But since no celebrities are on board, instead of jailing him, they throw him a party."
Dezelick said the show contains romantic complications for many of its couples. But eventually, they're able to devise a plan and marry the people they love. Fittingly, he especially likes the song, "Easy to Love," which he sings.
"This is the prelude to the whole show, where you see Billy and Hope meet," he said. "Because of this concept, the song's really cool because you later get to refer back to that night. And it has a great melody and presentation that go naturally with the scene."
Dezelick said the audience "will love the show because it has such a wide range of characters to relate to. It has wonderful music and awesome dancing, plus lots of terrific, quick, sitcom-type one-liners. The audience will really have a good time — they'll want to get up and dance and sing when it's over."
Playing Martin is Westfield rising junior Julian Sanchez. "He's a second-rate gangster who sneaks on board to hide out for awhile," said Sanchez. "He's really goofy, funny and definitely lovable. He wants to be Public Enemy No. 1, instead of 13; but deep down inside, he's not as bad as everyone thinks he is. His sidekick Bonnie, played by Corinne Holland, is his partner in crime, and they have a lot of funny material together."
Sanchez enjoys playing Martin because "he's really comedic and it's such a notable, Cole Porter role. Over the years, so many funny comedians have played it, and Joel Grey is playing it now on Broadway." Sanchez's favorite song is "Be Like the Bluebird," which he sings. "It's Moonface's attempt to make Billy feel better about Hope," he said. "It's a silly song and that's why I love it."
He said the audience will see how much time and effort went into the show and how it's culminated into something special. And, he added, "They'll love the big, musical numbers because we have such strong vocalists and dancers."
Westfield rising senior Katelyn Reimer portrays Reno Sweeney. "She's a well-known nightclub singer and the closest thing to a celebrity on the ship until they discover Public Enemy No. 1 is on board," said Reimer. "She's loud, brassy and self-confident; she walks into a room and commands it. But she's also sweet and vulnerable."
Calling it her "dream role," Reimer saw Sutton Foster play it on Broadway and says they have similar vocal ranges and mannerisms. "She made the role come alive for me, and I want to do the same thing for other people," said Reimer.
Her favorite number is "Blow, Gabriel, Blow" because "it's just pure fun. I get to sing and dance and let loose, and I love that." Although younger audiences may not have heard of "Anything Goes," she said, "They'll be surprised how much they enjoy it — every line is hilarious."
Many Westfield alumni are leaders in the Summer Stage program, including Kevin Clay, assistant director, stage manager and set designer; Avery Hobbs, assistant choreographer and assistant director; Trevor Knickerbocker, technical director, and Olivia Brown, publicity. In addition, Claire Manship is co-musical director with her father, Charlie Manship. Vocal director is Carol Jones.
"We're mentoring the alumni so they can run this program someday," said Lori Knickerbocker. "That's been my vision since day one, and it's gratifying that they want to come back and spend their summers with us."
As set designer, Clay took concepts from the current Broadway revival and sketched them by hand. "Then Trevor used an architectural-drawing program on the computer to get the dimensions accurate," said Clay. "We collaborated with Tina Dempsey, who's doing the color schemes, set dressing and furniture, and with our master carpenter, Jeff Nelms, who's building it with the students. The ship has staircases, plus three doorways, adding another layer to where the choreography and acting can take place."
Claire Manship is conducting the 22-person orchestra. "I love all the songs and I'm excited to do it," she said. "The Westfield Theater Boosters have always been my extended family, and it's nice to see so many familiar faces. And after doing so many Westfield shows and having so many good memories of Summer Stage, it's rewarding to come back to my roots and take on a new leadership position."