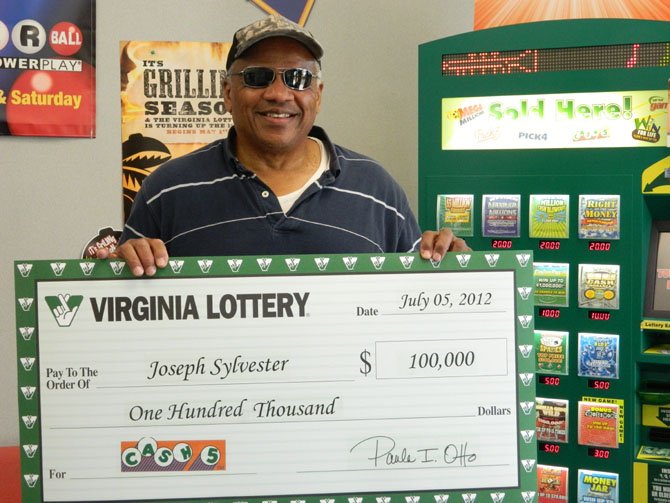 When Joseph Sylvester of Arlington matched all five numbers in the July 3 Cash 5 night drawing, he thought, "Gotta get my picture taken again."
Mr. Sylvester has had a lot of experience standing in front of the camera holding a big Virginia Lottery check. On April 3, he won the $100,000 top prize in the Lottery's Cash 5 game. Exactly three months later, he did it again.
"The second time is a little more routine," he told Virginia Lottery officials.
He bought his latest winning ticket at the 7-Eleven at 1500 South Fern Street in Arlington. He used Easy Pick and allowed the computer to randomly select the numbers on his ticket. The winning numbers were 11-15-19-26-27.
When he won his first $100,000 in April, Mr. Sylvester paid bills and bought a new truck.
Cash 5 drawings are held daily at 1:59 p.m. and 11:00 p.m. The chances of winning the $100,000 top prize are 1 in 278,256.
The Virginia Lottery generates approximately $1.2 million per day for Virginia's K-12 public schools. Operating entirely on revenue from the sale of Lottery products, rather than tax dollars, the Virginia Lottery generated more than $444 million for Virginia's public schools in Fiscal Year 2011. That represents about 8 percent of state funding for public education in Virginia. For more information, visit www.valottery.com. Follow the Virginia Lottery on Facebook, Twitter and YouTube. Please play responsibly.