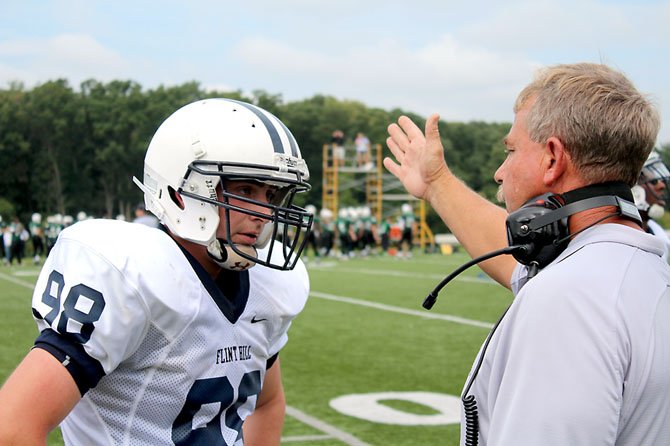 Flint Hill School named Tom Verbanic as the Head Varsity Football Coach for the 2012 season. Verbanic served as Flint Hill's Director of Athletic Operations and as the Defensive Coordinator for the Varsity Football team in 2011. He has been the Head Coach for the Varsity Baseball team since 2010.
Michael Wright had been the Head Coach of the Flint Hill Varsity Football team since the program was restarted in 2003. Under his leadership, the football team won four Mid-Athletic Conference (MAC) Championships, competed in the Virginia State Independent Schools Athletic Association (VISAA) State Semi-Finals four times, and was the VISAA State Runner-Up in 2008. Wright will continue in his role as Assistant Director of Admission.
Verbanic has coached football at the high school level in Virginia for the past 33 years. He began as the Head Coach at Fairfax High School for 11 years, during which time his teams went 85-32 with five district championships and one regional championship. When Westfield High School opened in 2000, Verbanic became the team's first Head Coach, maintaining that position for ten years. During his tenure, Westfield's football team finished with an overall record of 100-28 and won six district titles, two regional titles, and two state championships (2003 and 2008).
Verbanic received the District Coach of the Year award 13 times, the Regional Coach of the Year award four times, and the Virginia State Coach of the Year award three times. Verbanic also received the East Coast Coach of the Year in 2007 and was named Coach of the Decade for the State of Virginia (2000-2010).
Verbanic takes over a Flint Hill team that finished 2011 with a 7-3 record and placed second in the Mid-Atlantic Conference.