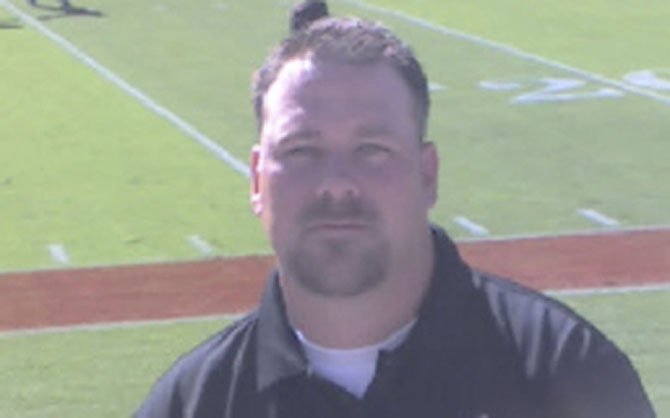 Herndon — After being a part of two Northern Regional football titles, two state championships and six district crowns while serving as an assistant coach over the years at Concorde District high schools Westfield and Centreville, Brian Day, this past January, accepted the position as new head football coach at fellow Concorde rival Herndon High.
Day, who coached quarterbacks for nine years at Westfield through 2010 before serving as a Centreville assistant last year, is confident he can help turn a struggling Herndon program into a winning team once again. He wants his Hornets to ultimately be a physically strong and fundamentally sound program.
He is succeeding former long time Herndon coach Joe Shaeffer, but does not believe the difference between himself and Shaeffer will be all that much when it comes to football know-how and coaching in general.
"I really can't tell any difference between Joe and myself," said Day, explaining that he tries to coach with great energy and passion. "I want to have as much fun at practice as the kids do."
After graduating from Fairfax High School in 1993, Day enrolled at Lenoir Rhyne College (Hickory, N.C.). While there he played both football and baseball before graduating in 1998 with a Bachelor of Arts in Sport Management.
NOW AS A MEMBER of the Herndon High community, Day has clear-cut goals as the new head football coach.
"Building the program, I hope that we become a district contender and Northern Region playoff participant year in and year out," he said. "Winning in the Concorde District is a major accomplishment and will take a great effort mentally and physically."
For the team to be able to reach those goals, the Hornets, who have struggled in recent years, will have to learn how to win again. Day said building a winner might take time.
"I think that it is important that we understand that winning is a process and it is something that is built over time," said Day, who explained winning is a result of consistently doing the little things correctly over and over again.
"If we take care of the little things then I believe winning will take care of itself."
Kyle Simmons, the current Westfield High head coach, was an assistant coach at Westfield along with Day under former Bulldogs' head coach Tom Verbanic. Simmons said Day brought a lot of football knowledge and enthusiasm to the Westfield program, as well as the ability to work in a positive manner with high school athletes.
"While here at Westfield, Brian was a key part of our off season program," said Simmons. "He worked hard to develop relationships with kids and help them reach their potential. Brian is very knowledgeable about the offensive passing game and played a key role in that part of our offense under offensive coordinator and head coach Tom Verbanic.
"He has been looking for the right place to be a head coach for some time and will be a great addition to the Herndon Hornets program," said Simmons. "I have no doubt he will do a great job there and we look forward to competing against him next season. I welcome him to the Concorde District."