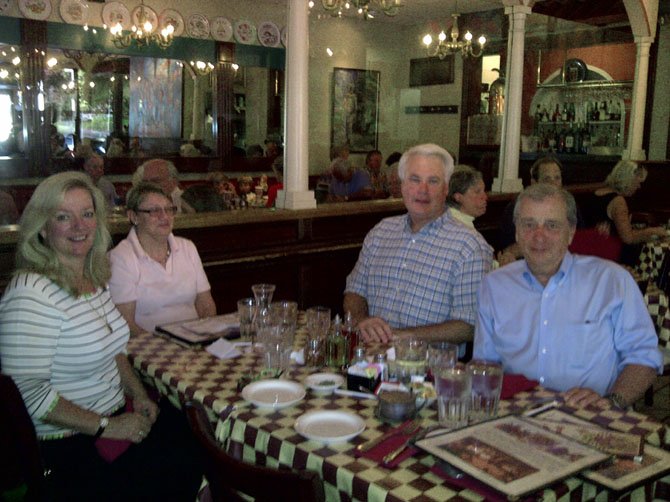 HBC Realty Group Community Charity Champions raised $1,650 for the McLean Project for the Arts at a fundraiser held on July 16 at Pulcinella Italian Host in McLean. This is the most money ever raised by Community Charity Champions and Karen Keys DuVal, Chair of MPA proclaimed the fundraiser at Pucinella's a remarkable success.
"I can't begin to tell you how much it means to MPA to receive this generous gift from the corporate benefactors and from all our wonderful friends who came out on an otherwise quiet Monday night to 'give' to MPA while getting a fabulous meal from Moe Jebali at Pulcinella Italian Host. I hope everyone who attended and everyone who hears about Community Charity Champions realizes and appreciates the scope of what they are doing for the community," said DuVal.
The mission of McLean Project for the Arts is to exhibit the work of emerging and established artists from the mid-Atlantic region; to promote public awareness and understanding of the concepts of contemporary art; and to offer instruction and education in the visual arts. MPA is a non-profit visual arts center founded in 1962 to exhibit the work of emerging and established regional artists.
Corporate sponsors for the event were: Karen Briscoe and Lizzy Conroy with the HBC Realty Group, Richard Moroscak with Southern Trust Mortgage, Marcus Simon with EKKO Title, Moe Jebali with Pulcinella Italian Host and Frank Vorndran with MorganStanley SmithBarney.
"As a 501(c)(3) nonprofit organization, MPA relies on support from business leaders such as HBC Realty Group and from individuals in our community for the majority of our fundraising so that we can continue to offer high quality exhibitions and educational programs to the community" stated Nancy Perry, Executive Director of McLean Project for the Arts.
Other local charities are currently being considered. Call Karen Briscoe and Lizzy Conroy at 703-734-0192 for more information.