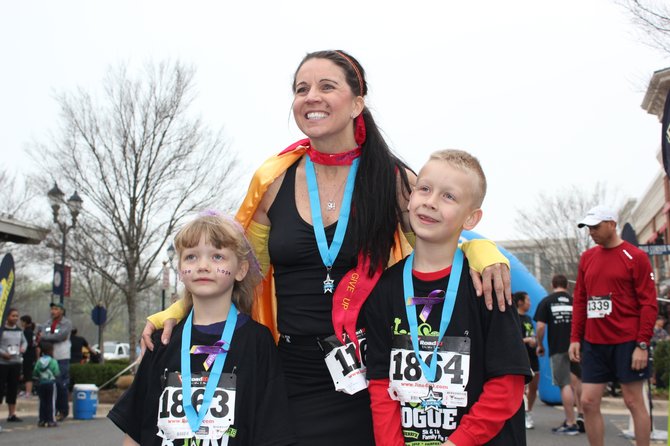 Fair Lakes resident BethAnn Telford has participated in two Ironman competitions in Lake Placid, N.Y., and in several half-Ironman events. But for her, being accepted into the upcoming Ironman World Championship in Kona, Hawaii, is the top of the mountain.
"This is the big one," she said. "Only 1,800 people can get into it, and you can't just fill out an application – you have to qualify."
It's also important to her for another reason. In 2005, Telford was diagnosed with a Stage III brain tumor, and she's still battling it. So when she found out last Thursday, July 19, that she qualified, she was thrilled.
"I was just overwhelmed," said Telford, 43. "I was so excited for the brain-tumor community to have someone go there and represent them. I want to show them this can be done and that there's hope."
Indeed, "hope" is the word she has tattooed on the inner side of her left wrist and, whenever she gets down, she looks at it for strength. Her personal motto is "Never, never give up," and she lives these words every day.
Since her diagnosis, Telford has undergone surgeries, plus countless hours of rehabilitation to regain her speech and physical function after each one. Yet she still works full time for the U.S. Government Printing Office, trains constantly for marathons and endurance races, and actively raises money – more than $300,000, so far – for the National Brain Tumor Society, http://www.braintumor.org/, via her nonprofit fund-raising organization, Team BT.


IT'S ALWAYS BEEN A DREAM of hers to compete in the Ironman World Championship in Kona, Hawaii. To win a slot in it, Telford entered the Ironman Kona Inspired "Anything is Possible" Video Competition sponsored by Yurbuds. Next came online voting, where her video earned her a spot in the event.
This year's Ironman, the 34th annual, will be held Oct. 13. It consists of a 2.4-mile swim, a 112-mile bike ride and a 26.2-mile run. To prepare, Telford's been training with a triathlete for about two months and is now ramping up the intensity.
Weekdays, she rises early and hits the gym at Life Time Fitness in Centreville before work. Then when she comes home, she usually goes swimming, running or biking. On Saturdays, she runs 18-24 miles throughout Northern Virginia with friends; Sundays, she bikes as much as 88 miles, then follows it up with a "cool-down run" of five miles.
"Unfortunately, this will be my last Ironman because my health isn't good," said Telford. "This was on my bucket list, and it's the final thing to be checked off. I just hope to be able to spend a week in Hawaii afterward with my parents. They've never been farther than Virginia, but they're coming from Pennsylvania for this."
Her least favorite part of the competition, she said, is "the anxiety of having to get into the water and start swimming." What she likes best is "all the people in the triathlon community that come out – the support is just wonderful."


ASIDE FROM THE SATISFACTION of successfully completing all the Ironmen events, Telford's participating to bring awareness. "My goal is to be able to inspire people in the brain-tumor community, because a lot of us get down sometimes," she explained.
Furthermore, she added, she won't be competing alone. "I'm taking a lot of people in my heart who've lost their battles [with brain tumors]," said Telford. "I'll also be biking, swimming and running for those still battling. I want to prove to them that they need to keep fighting."