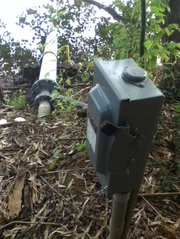 This seems like our hottest and driest July in living memory. That is a deadly combination around normally idyllic Lake Anne. Heat and drought bring forth Lake Anne residents' two fearsome corporate monsters—RELAC, son of AQUA Virginia, and Hidden Creek Golf Club, our Lake's corporate leach.
Life is good at Lake Anne. Residents of condos and townhomes around the Village Center enjoy the pleasures of fine dining in family-owned restaurants on the Plaza; taking in weekly concerts; and, shopping and socializing on Saturdays at the Reston Farmers Market (No. 1 in NOVA) and the lively crafts market which give the village the air of a grand bazaar. It is a place of special charm which attracts visitors from all over to Bob Simon's crown jewel of Reston.
But the people fear the coming of summer when flaws in the grand scheme subject them to a monopoly utility called RELAC (Reston Lake Anne Air Conditioning) when the temp soars. RELAC is a relic of a vision for silent cooling. It uses in part Lake Anne water to chill water then piped into our homes. The system now operated by a corporate giant unwilling to make critical investments in decrepit cooling/distribution machinery ill serves the gentle people. Instead, while promising to invest and maintain, AQUA has let its beastly child deteriorate further while it seeks and is given outrageous rate increases (54 percent eighteen months ago, 17 percent last week). Cooling towers promised 4 years ago, and again in January 2012 have not materialized. Besides its inefficiency and high cost (e.g., we pay AQUA $2,000 a season, excluding electricity in our townhome), the air coming through our ducts is humid and unhealthy. Many people get medical permission to leave the system owing to its mold-generating wet air.
What could be worse? Drought! Because RELAC depends on cool Lake water for the first step of its chilling process, it needs to draw water from some depth. Water near the surface approximates the air temperature and, on hot days, is useless for cooling. Inefficient at best, it gets worse when weather is dry and Hidden Creek Golf Club turns on its pumps and sucks out hundreds of thousands of gallons of water, sharply dropping the Lake's level, to keep its decorative ponds full, its fairways and putting surfaces lush green. No matter the impact on the RELAC relic and the folk who depend on it around the Lake. Soon RELAC pumps are sucking mud and silt more than warm water. The fouled system must be shut down altogether—when the weather is at its hottest.
How can a for-profit ($10 K to join) club suck out the Lake's water free of charge and without permission? Because some developer gave the then-public club an easement to do so, apparently in perpetuity! Until a couple of days ago, Hidden Creek refused appeals to limit sucking the Lake's lifeblood during times of drought. Now, they've told RA President Knueven they are willing to talk about it. We should support Knueven's efforts with them as long as we see results.
We are not ones to storm their barricades perhaps. But surely we could muster a public boycott of Hidden Creek Golf and a new referendum to throw off RELAC's covenant chokehold.